Changing the way Personal Finance, Economics, and Business is taught in the classroom
New for Fall 2019: Personal Budget Simulation
Transform your classroom into a Business or Finance Lab
What's Inside
The only personal finance site featuring:
Customizable stock game
Customizable personal budgeting simulation
Customizable embedded curriculum
Built-In Assessments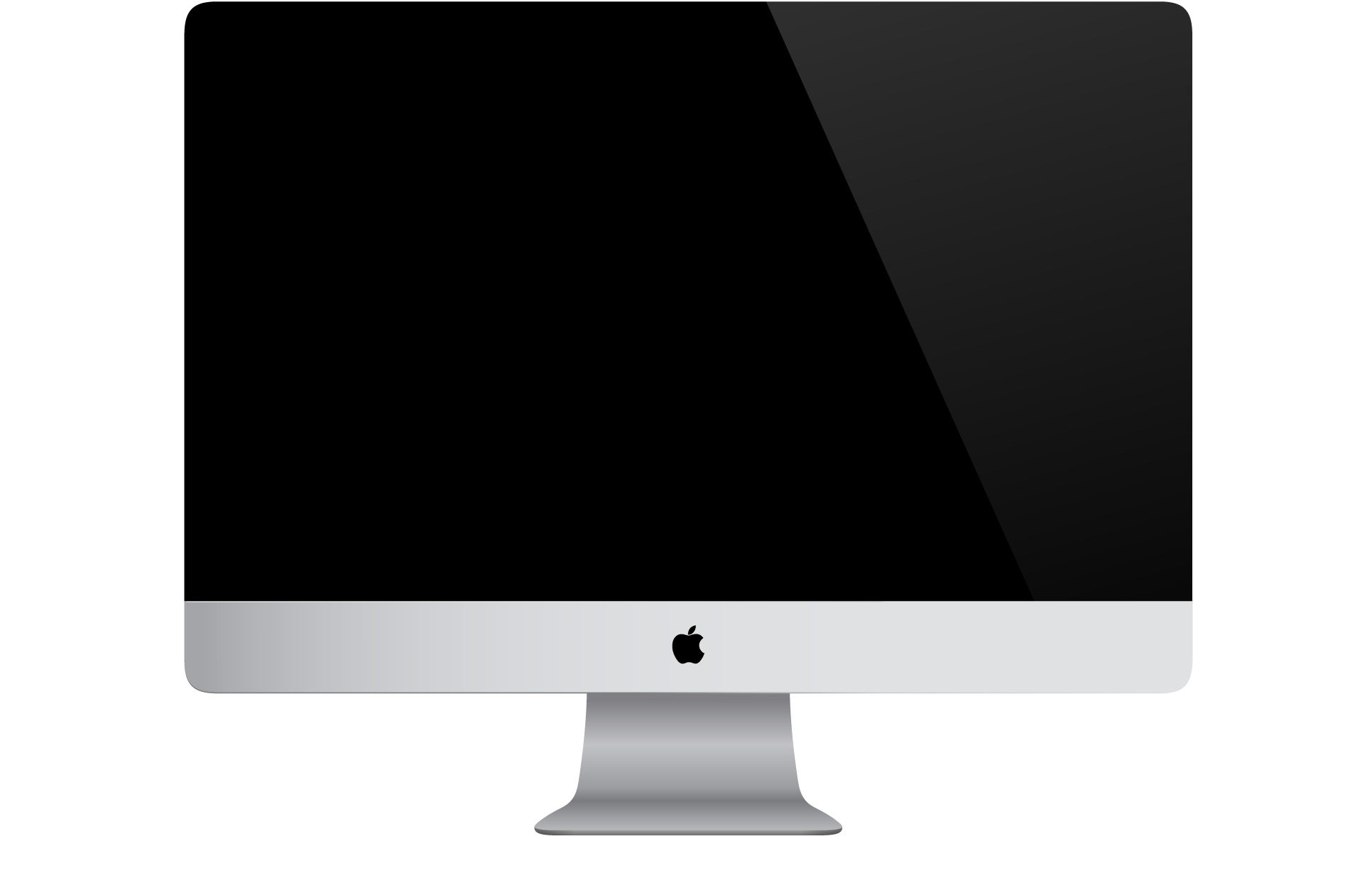 How It Works
Teachers create a customizable, real-time stock market game that fits their class schedule. Then teachers setup a personal budgeting simulation with real-world events that teachers real-life skills. AND teachers create embedded lessons and assignments from our integrated Personal Finance, Economics, and Business curriculum. Teachers choose the curriculum they want their students to complete, and every time their students log into to check on their stock portfolio they are prompted to access the lessons and take "pop-quizzes" in order to progress through the required activities.
Our Mission
Personal Finance, Economics, and Business should be the most exciting topics at any school, but too many students are getting left behind. Personal Finance Lab gives teachers the tools they need to transform their classroom into a 21st century laboratory for learning.
Uplift every student by blending the excitement of the financial markets with concrete exercises and examples, all tied together in a way that is accessible for every student.
Learn More
Compatible with Google Classroom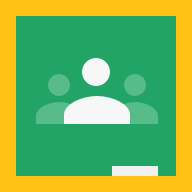 / COPPA compliant

Teaching a Personal Finance Class?
Start your students off with $100,000 to start building a portfolio. Give them a head start by including tutorials about how to make their first trade, while building a budget to see how investing fits into their overall spending plan. As your class goes on, widen the net with articles about insurance and starting a business, videos on researching the financial markets, activities showing how to build a savings plan for retirement, and much more! The most exciting way to teach financial literacy for high school students!
See Sample Lessons
Teaching an Economics Class?
Start your class off by looking at supply and demand examples in the stock market, and have students buy stocks from 5 different sectors of the economy. Add in articles outlining major economic indicators, while live market news shows these concepts playing out in the real business world.
Bring it all together by showing how this week's class topics is impacting the class rankings!
See Sample Lessons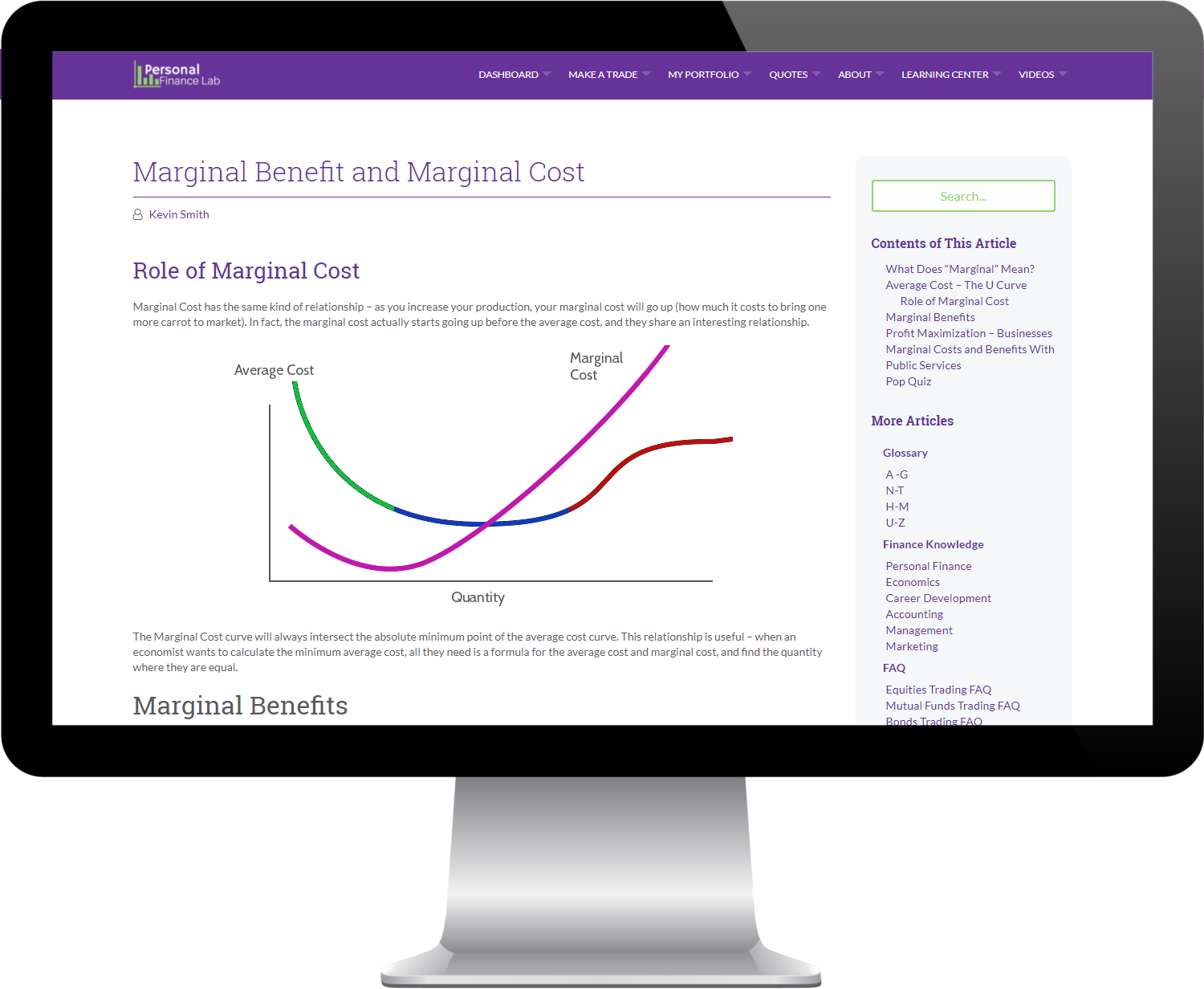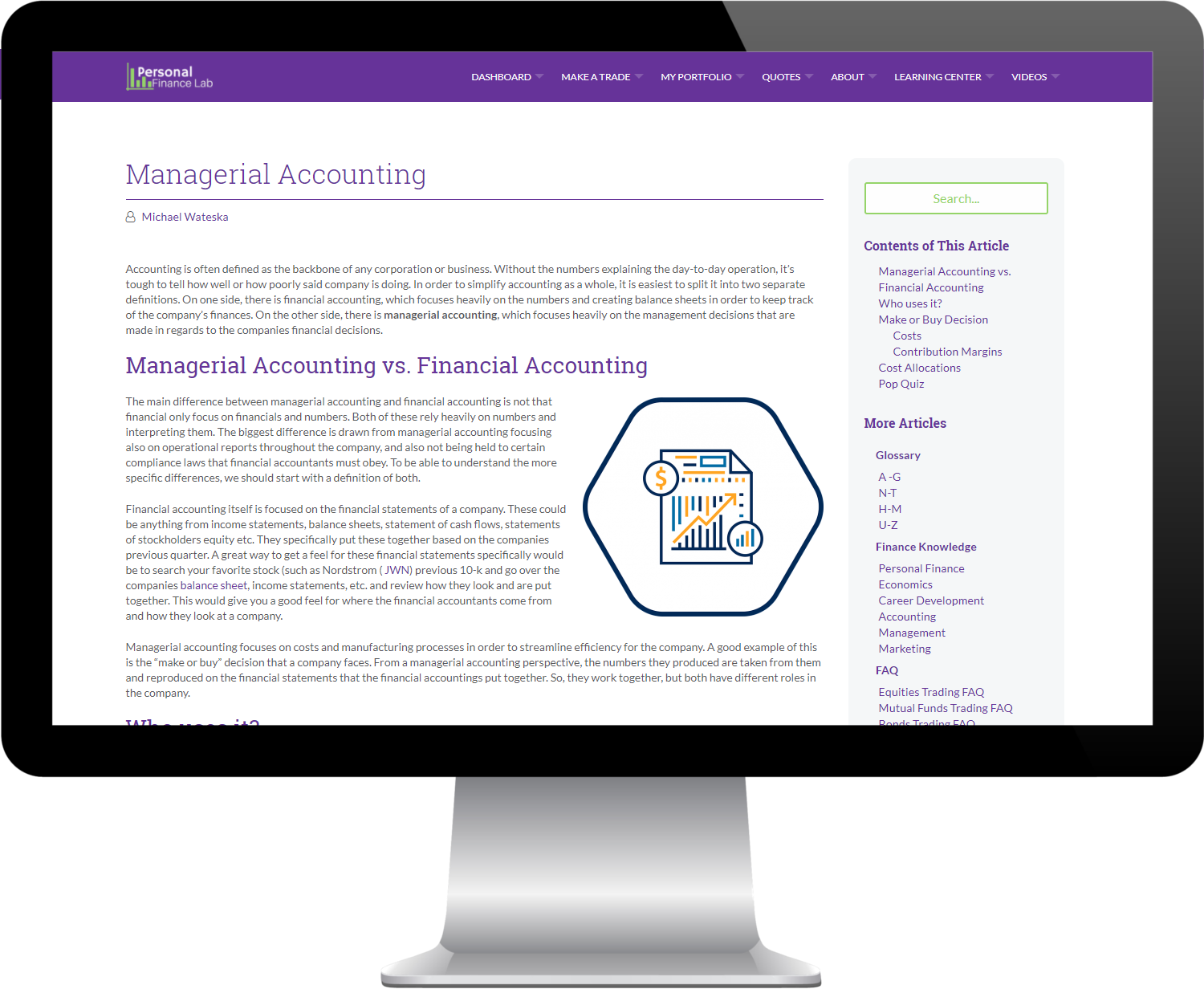 Teaching a Business Class?
Full embedded curriculum for Accounting, Management, and Marketing classes, all aligned to state and national standards. Assign reading walking students through reading and building income statements and balance sheets, while building their portfolio of stocks and corporate bonds. Students use the built-in Trading Journal to explain why they expect each investment to go up, with tons of research and reporting tools integrated into their portfolio.
See Sample Lessons
Does Your School Need a Finance Lab?
Take your classroom to the next level - Personal Finance Lab can be expanded and customized with scrolling tickers, LCD screens, and live class rankings to turn your computer lab into the most exciting room in your school!
Learn More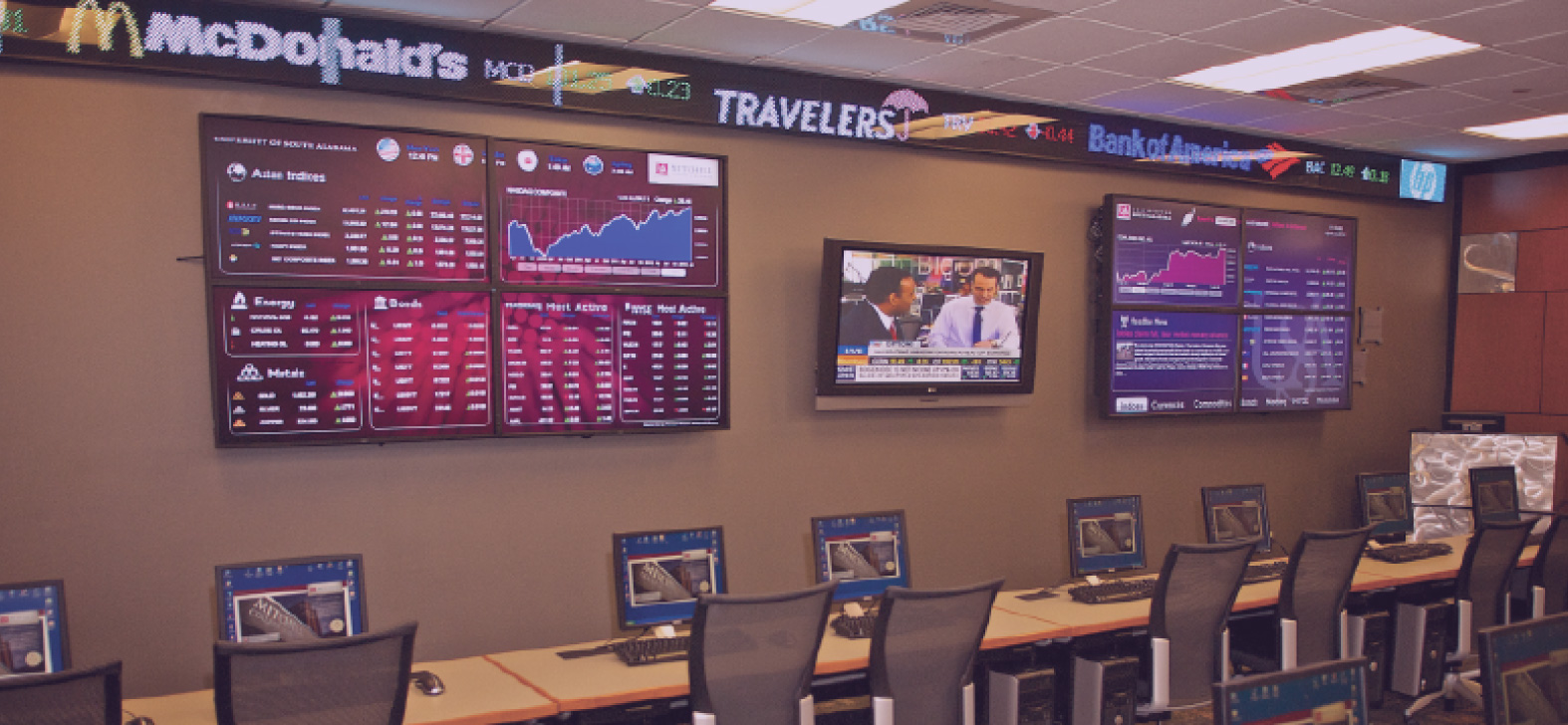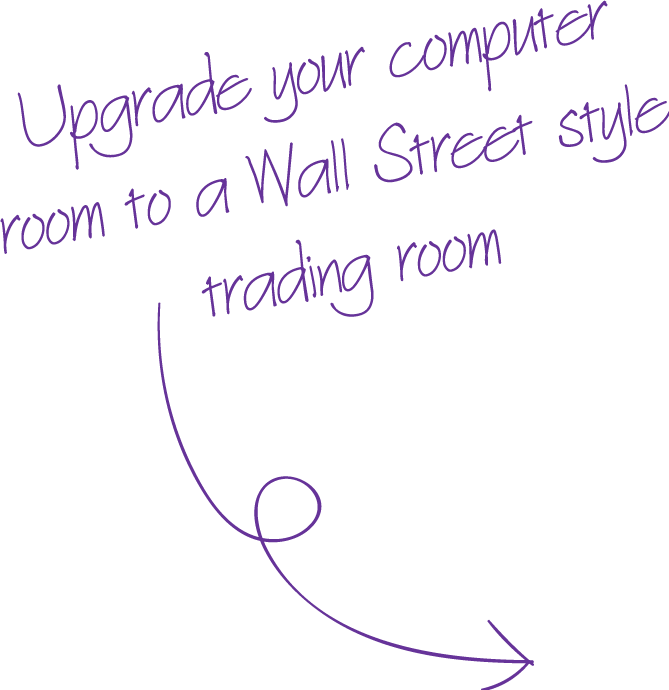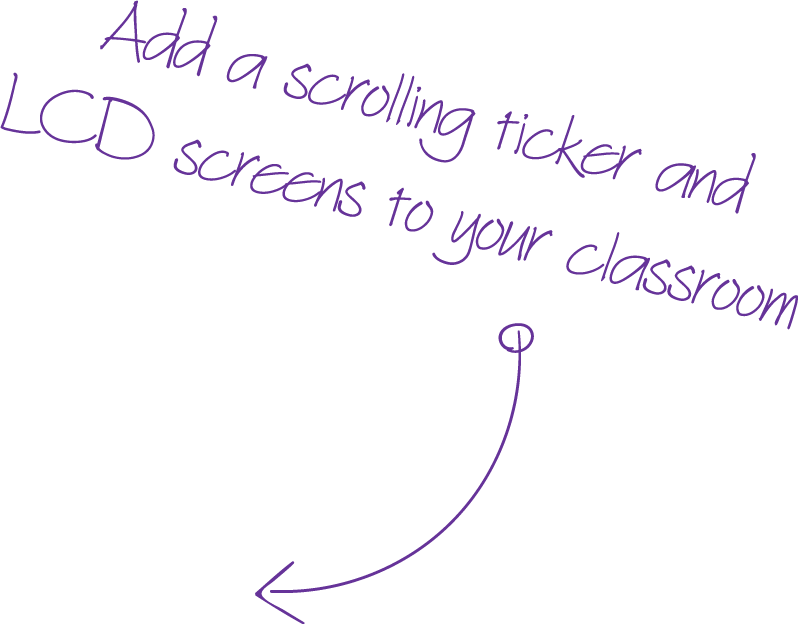 Financial Literacy For High School Students