Free Teacher Test Drive
PersonalFinanceLab Free Teacher Test Drive!
This is an open invitation to all teachers to join our free Test Drive to get a full access to everything PersonalFinanceLab.com has to offer.
When you register, you will have the exact same experience your students will have with our Budget Game, Stock Game, and Curriculum Library.
Regardless of whether you are teaching online or in class, you will see first hand how PersonalFinanceLab can take your class engagement to a whole new level!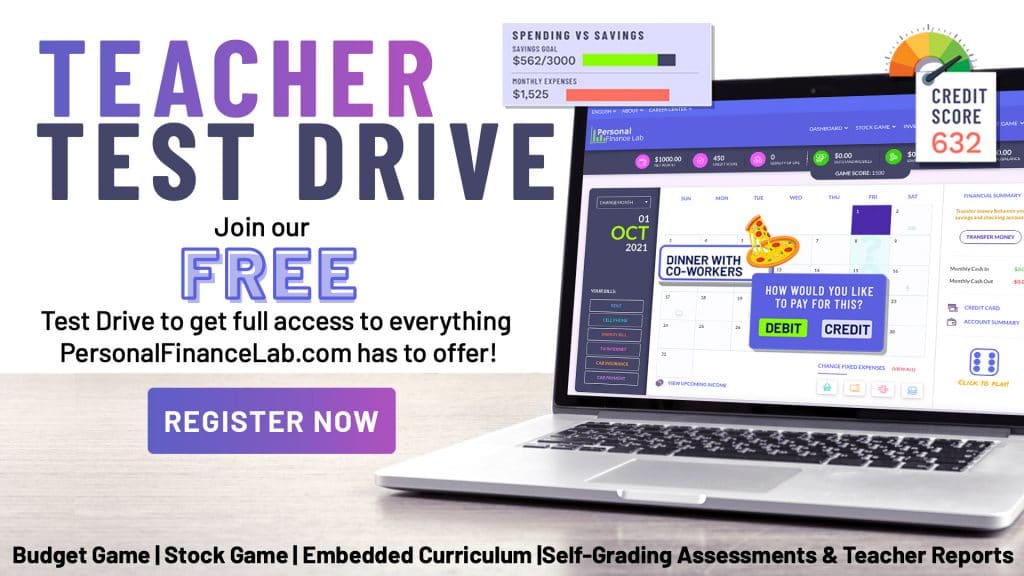 How It Works
When you join our Teacher Test Drive, you will participate in a "class" in the role of a student. You will have:
Access to our Personal Budget Game where students learn how to use their checking, savings, and credit card accounts and try to stay on a monthly budget
Access to our Stock Market Game where students receive a virtual $100,000 in starting cash to build a portfolio of US stocks, ETFs, mutual funds, and bonds
Access to our entire curriculum library, with over 300 lessons!
If you want to see more info on what's included, click here.
As you progress through the games, you will earn badges on your Achievements page – pick one to show off in the Class Rankings against other teachers who are participating too! Your badges "Level Up" as you improve mastery of a concept – see how much you can grow!

Getting PersonalFinanceLab For Your School
When you register for this Teacher Test Drive, you are experiencing our platform from the student point of view. When you order PersonalFinanceLab for your class or school, you will have the ability to customize all the dates, budget settings and stock account parameters.
If you want to include the Budget Game, you can choose:
The starting checking and savings account balances
If students start as full-time workers or part-time students (who can later "Graduate" into the workforce)
The amounts for all regular bills
And even what types of events pop up during the game!
If you want to include the Stock Game, you can choose:
The starting cash of your students
How much interest students earn on their cash deposits
If students can borrow money, and what interest they are charged on loans
If they can short sell, day trade, or trade other securities (like options and currencies)
Plus over 50 other settings to completely customize your class!
And with our curriculum library, you can choose:
Which lessons your students need to complete, with each "Assignment" having its own "start date" and "due date"
Queue up assignments by setting "prerequisites" (where students need to complete one assignments before starting another, regardless of start dates)
Add "Rewards" for assignment completion, giving deposits to their stock portfolio or budget game checking account
If students can re-take the quizzes at the end of each lesson to earn a higher score, or if their first try gets saved to their "grade book"
… plus dozens of other customizable teacher reports, live support from a dedicated account manager, a help desk and FAQ resource for students, access to our prized National Challenges for your students, and much more!
Get A Quote For Your School