W!se: A Nationally Recognized Financial Literacy Certification

PersonalFinanceLab is proud to announce a partnership with W!se (Working in Support of Education) and its Financial Literacy Certification program.

Through the partnership, students will have an opportunity to take W!se's Financial Literacy Certification Test after using our virtual financial literacy platform. Those passing the Test will become Certified Financially Literate™.

W!se's coveted and nationally recognized credential provides a stackable for your students' resumes and helps in their search for work.

The Certification demonstrates that students are graduating with the knowledge and skills to lead a life of financial wellbeing. The W!se Certification is a valid way to quantify "value-added" and measure your course's outcome, and student attainment.
ABOUT THE PROGRAM
W!se's Financial Literacy Certification program is a groundbreaking innovation in financial education for high school students. The program's goal is simple—to help high school students graduate as financially capable young adults. Participating high schools teach a course or unit on personal finance and then administer the W!se nationally standardized Financial Literacy Certification Test.

W!se provides professional development and instructional resources that include webinar training, a detailed curriculum (with national and state standards), and online practice quizzes to support instruction and preparation for the test (with national and state standards). Along with the final certification testing, there is also an opportunity for pretesting to take place so that the base levels of students can be recorded for value-added comparisons.
EARNING A CERTIFICATE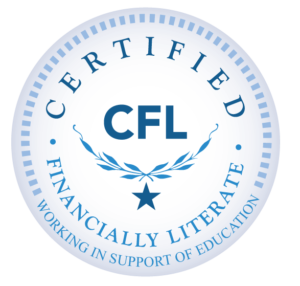 The hallmark program feature is the W!se Certified Financially Literate™ (CFL™) credential awarded to students who pass the Test. The credential demonstrates to colleges and employers that students have the knowledge and skills to be financially savvy. Teachers and schools are also recognized based on students' performance on the Test. W!se also has an annual ranking of the "Wise 100 Best High Schools Teaching Personal Finance" which is nationally recognized and is the first ranking of its kind in the country.
FAQ
How much does it cost?
Financial Literacy Certification Test for $10 per student.
Both the Financial Literacy Pre-Test and Certification Test for $12 per student.
How long is the test?
The test takes 50 minutes to complete. Set up for the test usually takes an additional 15 mins. Testing also accommodates IEP.
What is the format of the test?
Multiple choice.
Does it have to be proctored?
Yes, it does.
Is there a physical or online version?
The test can be completed through online or paper-based methods.
How do I book to take the test?
Once registered on the PFinLab website, you will receive a code from us, and then you will need to contact W!se. to coordinate testing opportunities for you.
Can the test be retaken?
Yes, it can.
Are there specific times when I can take the test?
Testing windows fall during the school year when schools are open for teaching. W!se will advise on open dates for testing upon contact.
How can I pay for it?
Contact our sales team and request a quote for the W!se testing bundle.