$10.00 – $20.00
The PersonalFinanceLab Platform!
Get the complete Personal Finance Lab customizable Stock Market Game, Budget Game, and Curriculum platform for your class! This combines our cutting-edge stock game, personal budgeting game, and curriculum library with over 300 lessons aligned to state and national standards for Personal Finance, Economics, and Business classes into one amazing learning resource for high schools.
Pricing Starts At $10 for the Budget Game
Dropping to $6 for volume discounts
Prices are per student. Schools can purchase student accounts for our stock game, budget game, or both – and optionally add on our classroom widgets as well. All options also include our curriculum library and career center.
This version of Personal Finance Lab works best with classes with 10 or more students. If you have fewer than 5 students, check out our version for small classes and home schools by clicking here!
When checking out, teachers can choose to pay immediately via credit card, or pay by invoice. If you request an invoice, we will also send you a quote that can be approved by your school for purchases via Purchase Order as well.
PersonalFinanceLab is customizable per school – choose the options below to fit your school:
Bulk discounts are applied for schools with 50, 100, 250, and 1000 students or more!
Description
What's Inside
Stock Game
Budget Game
Fully Customizable class settings
Teacher Reports and Resources
Live streaming rankings of your entire class for extra engagement
Built-in Research Tools
Interactive charts
Teacher and student support: live chat, phone and  on-demand webinars
…Over 300 standards-aligned lessons for high school on Personal Finance, Economics, and Business with built-in assessments
…Along with our Investing101 course, which can be used both in class or as independent study
…And course outlines, lesson plans and slideshows, showing exactly how to use everything effectively in class!
What You Get
After completing your order, our team will reach out within 1 business day to set up the teacher logins for your school. All teachers who require access will get a confirmation email with their login credentials, access to our on-demand teacher tutorial webinar library, access to our lesson plan and presentation library, and a tutorial on how to set up their first class. Teachers will have immediate access to our "Live Chat" and 800-number teacher support hotline, and can set up their classes and get students registered right away!
If you have any questions, please reach out to sales@personalfinancelab.com, or give us a call at 1-(800) 786-8725 ext. 365
The Budget Game
Our budgeting game puts your students in the role of a college student with a part-time job. Students review their expected monthly cash inflow, and then review their expected expenses of rent, car loan, groceries, utilities, etc.
Students then roll the online dice and advance through the days of the month and face life's random events. Flat tires on the way to work, unexpectedly high utility bills, expensive grocery bills, and medical bills all present challenges for students to survive on their limited cash flow. They will have to use their credit card at times to "make ends meet." Then they have to remember to pay their bills on time or they see their credit score drop, their late fees pile up, and their interest rates increase.
Decisions they make in the game have long-lasting consequences too! The decision trees follow probabilities – so students are encouraged to identify their own personal level of risk they are comfortable with. For example, students need to decide whether to work, study, socialize, or take care of chores each weekend. Working extra hours helps their bottom line, but neglecting their studies can result in expensive emergency tutoring sessions!
Teachers also control the "fixed expenses" each month, the wage students earn at their job, the income tax rate, and the types of Life Events that appear. There is a large common stock, but teachers can add in more events relating to "contracts", "insurance", "investing", and several other categories to ensure the events in the budget game correspond to what students are learning in class.
The Stock Game
Using stock games in class gives your students a whole new perspective on the world around them. By the end of your class simulation, your student's thought process gets transformed from "I'm going to the store to buy some food" to "I'm going outside in my Nike (NKE) shoes, Wrangler (VFC) Jeans, and Abercrombie & Fitch (ANF) t-shirt, to the Bank of America (BAC) ATM to get cash, then drive my Ford (F) car rolling on Goodyear (GT) tires with BP (BP) gas to Walmart (WMT) to buy Charmin (PG) toilet paper, Crest (PG) toothpaste, Coca-Cola (KO), and Ben and Jerry's (UL) Ice Cream.
This helps students take stock of how they spend their own money, and how businesses operate in the real world – fostering a new level of critical thinking and understanding of finance and economics. Why does Charmin toilet paper and Crest toothpaste have the same stock symbol?
The Personal Finance Lab Stock Game can be used individually or in groups (where we retain individual accountability even with the group projects), with a real-time prices. Built-in tutorials help students get started and streaming class rankings maximizes engagement. Hundreds of built-in lessons from our curriculum library come with automatic assessments, all without missing a beat!
For teachers, you can customize every aspect of your class: trading rules, starting cash, allowing retries for quizzes, and mix and match the lessons that work best for your class. Our customizable lesson plans (aligned to state and national standards) give awesome class project ideas as the perfect starting point, and our suite of easy-to-use teacher reports bring everything together!
You can even set the game to make regular deposits of cash into a student's account (to simulate contributions to a retirement account that must be continually invested), or even put students into teams for group portfolios – but with full reporting of the activities of each student in the team!
Curriculum
Our customizable curriculum library has over 300 lessons aligned to both state and national standards for Personal Finance, Economics, Accounting, Management, Marketing, Investing, and Math classes. Each week, pick and choose which topics you want to include, based on your class's specific course outline.
Lessons include articles (between 1000 and 2000 words each, written between a 6th and 9th grade reading level), videos, infographics, and mini-games. Each lesson ends with a "pop quiz", acting as an assessment. Teachers can choose whether students can re-take quizzes for a higher score, or if the first attempt gets saved to a "grade book". At the end of each week's Assignment, teachers can also include a final Unit Assessment, borrowing quiz questions from the material that preceded it. We also included our Investing 101 Beginner's Investing Course, a 10-chapter e-learning course guiding students from the very basics through advanced research and trading techniques centered on personal investing.
This all comes packed with teacher reports, student feedback, and engaging ties back to the stock game and budget game! We also have a library of lesson plans showing how to use the lessons in class (along with more direct instruction and group-based activities), plus a library of Google Slides presentations accompanying our most popular Lessons, so they can be used both for direct instruction and self-directed learning.
Students who complete our full Financial Literacy or Investing curriculum also earn a Certification showing their subject mastery!
The Career Center
As a bonus, all classes on Personal Finance Lab have access to our Career Center! This resource has resume help and job/internship search tips, plus information on the most important certifications in the finance industry necessary to launch a career. It also includes our Job and Internship Search Tool, which pulls in over 500,000 real job and internship postings from Indeed and ZipRecruiter.
This can be used both for students to find and apply for internships, or as a class tool for students to "work backwards" from their dream job to build a plan on how they will build all the necessary skills and experience.
MarketInsight Widgets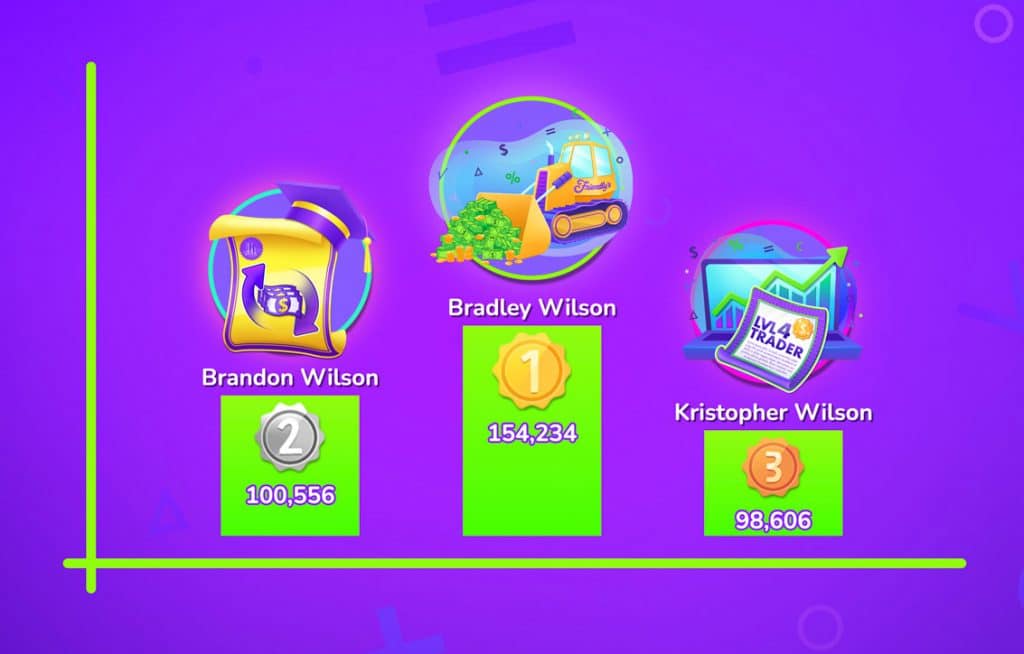 Transform any TV into a MarketInsight Display with this widget pack! Stream widgets to turn your classroom into a Finance Lab, including:
Customizable Watchlists
Streaming Class Rankings from your PFinLab Stock Game
Personal Finance, Economics, Accounting, and Investing "Words of the Day"
Streaming business news feed
Streaming stock charts and virtual ticker
Your school's lunch menu, Facebook, and Twitter feeds
…Plus customized widgets with financial data relevant to your specific classes!
Request A Quote
If you would like to request a formal quote for review, please fill out the form below and our sales team will reach out shortly: