To create your class, log in as an administrator (if you're seeing this page, you probably already have), and find your Administrator menu at the top left of the page. If it's your first time logging in, and you've never set-up a challenge, you will be prompted to set-up a class right away.

Challenge Details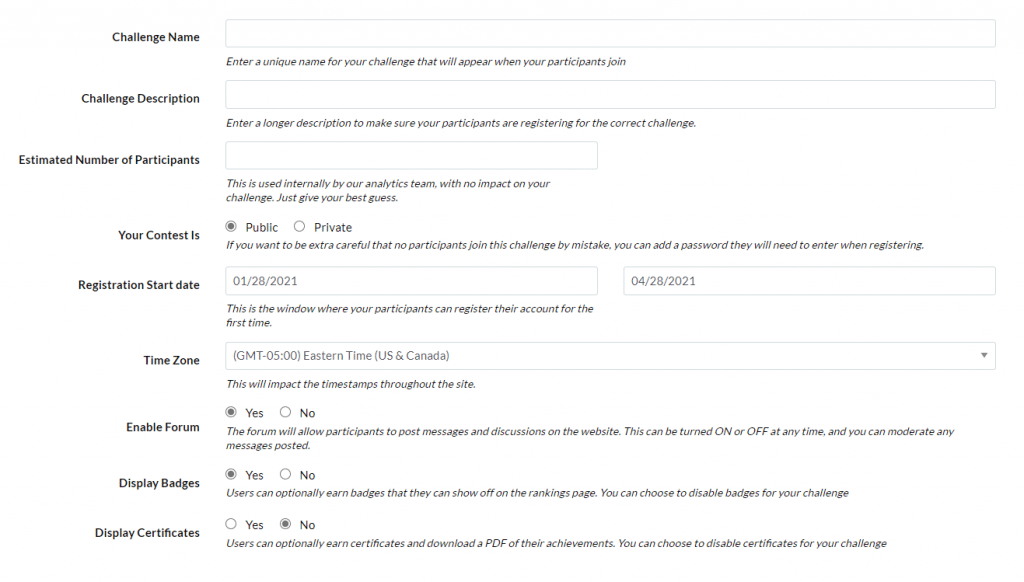 Challenge Name: This is the name of your class, this is what your students and you will see as your class name. e.g. Fall 2020 – Block 1 or Economics Homeroom or Stock Market Enthusiasts
Description: This is a longer area to describe your class; which is useful when you have multiple classes with similar names. Use this to distinguish the right one for your students
Estimated number of participants: Some instructors organize their students into teams with multiple students on one account. We ask you put the total number of students who will be using the platform, this way we know how many students are engaging with the site.
Your contest is (Public/Private): if you make your contest private your students will need to enter a password to be able to register. Public contest means that students will click on the unique registration link only.
Registration Start/End Dates: These are the dates that your students can register into your class. Outside of these dates, no new students can join (we can change this later if needed).
Display Badges: students will earn Badges from all actions they perform in the game.
Display Certifications: upon completing our core curriculum, (if selected from the assignments creation section) your students can earn a certificate in Investing101 – Beginner's Investing or a Financial Literacy Certification.
Budget Game

If you purchased the Budget Game, you want to click the button "Include Budget Game" to open all the game settings. Please jump to the next section if you only purchased the Stock Game.
Budget Game Dates: this is the timeframe when students are able to play the game.
Total "Months" the game is played: each month takes 20 minutes of gameplay. You have as few or as many months as you like.
Speed Limit: you can limit how many months students can complete per week in real-life. So, if you put 2 here, students can complete two months of the game during the week. The following week they can complete another 2 months…
Game Mode: do you want your students starting as college students with part-time jobs or full-time workers? You can also decide to have them start as students and graduate after a set amount of months. From that point onward they will graduate and become fulltime professionals with larger bills to pay and a higher salary.

Starting Account Balances: how much cash do you want your students to start the game with in their checking and savings account. TIP: the goal is for students to learn how to save and build an emergency savings account, so we advice you have $0 in their savings account.
Hourly Wage ($/hr): the first box will be the rate for their part-time job, the second box is the rate for when they work full-time. TIP: students will earn a higher hourly wage when they study or do more personal development on the weekends.
Income Tax Rate (as a %): please adjust to reflect the income tax of your province or state.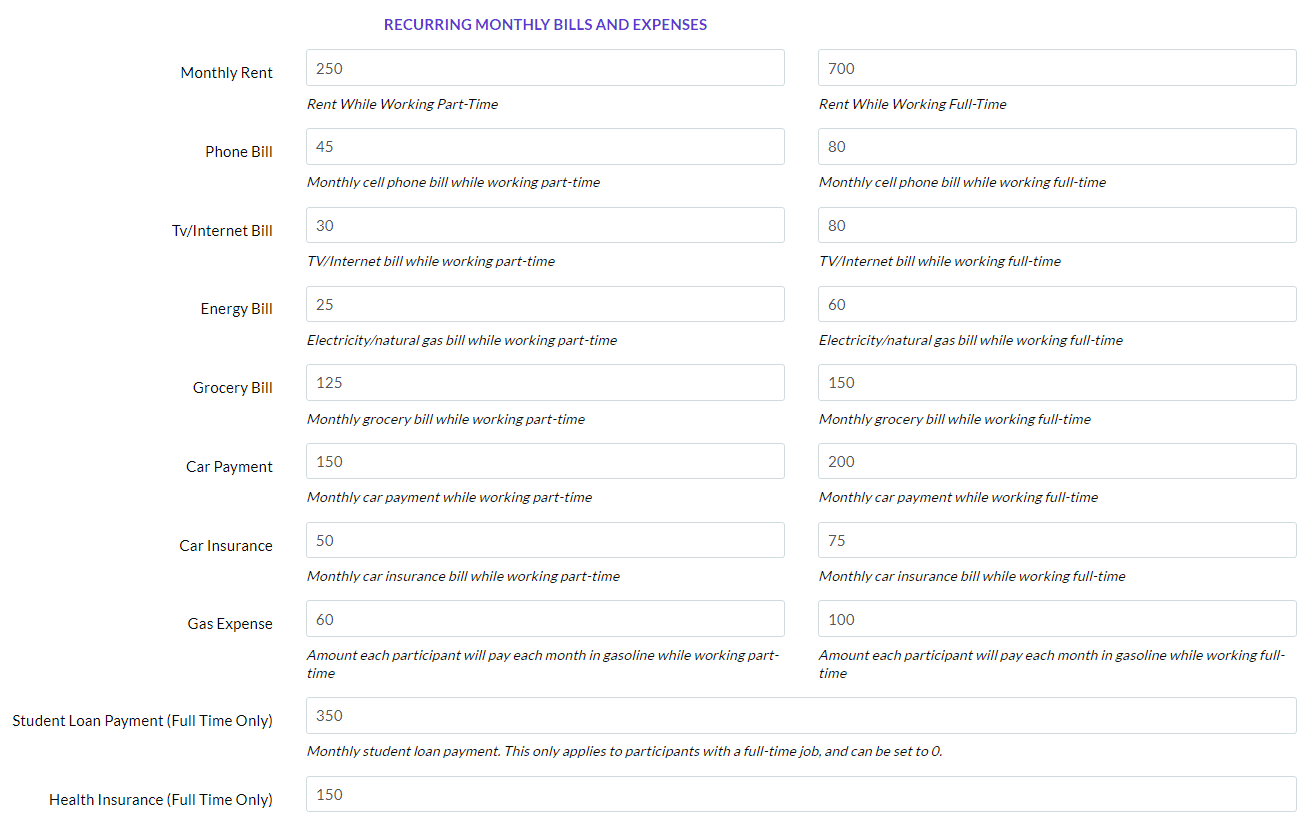 Recurring Monthly Bills and Expenses: you can leave the default settings and continue to the next step in creating your class.
TIP: do a practice round where students do research on the average expenses in their area, (cell phone plans, gas expenses etc.) and then update the bills to reflect their findings on local prices. In the next round of the game, they will see the impact of their research on their experience in the game. You could turn this into an activity to see the different standards of living in different areas of the country!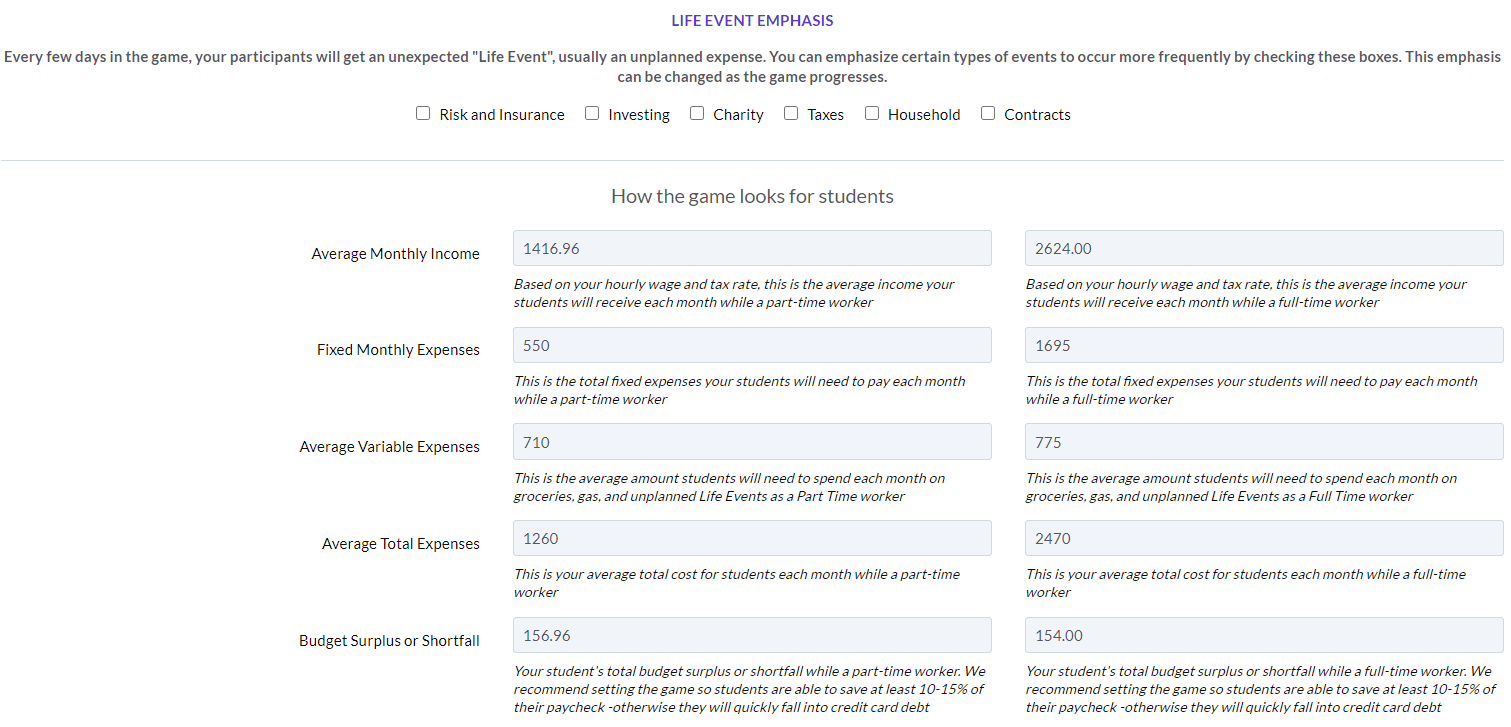 Life Event Emphasis: if you don't check any of the boxes the Budget Game will randomly distribute pop-up choice cards from each of these categories. You can update the life events at any time to reinforce certain topics to reinforce lessons in class.
How the game looks for students: if you've made any changes to the default settings this area will show you whether you've made the game too difficult to "win".
Stock Game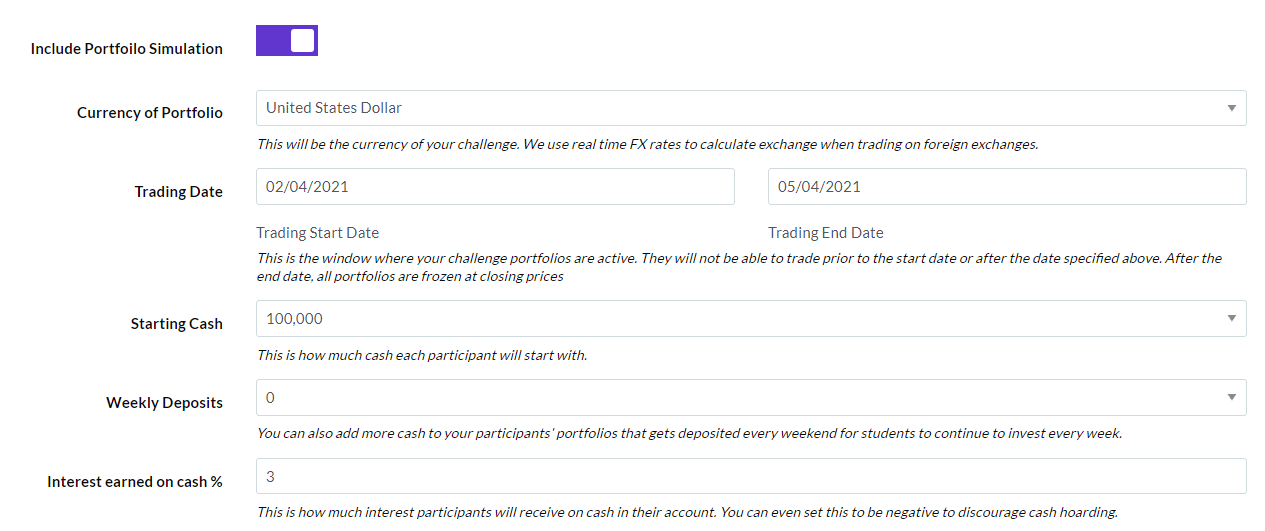 If you purchased the Stock Game, you want to click the button "Include Portfolio Simulation" to open all the game settings. You can keep it turned off if you want to run a class/challenge without the Stock Game turned on.
Currency of Portfolio: This is the currency your students will be trading in. This cannot be changed later.
Trading Start/End Dates: These are the dates that students can actually trade in their portfolios. After the tournament end date, all values are frozen as of the market close on the last trading day, along with the rankings, so students do not need to worry about selling off all their positions at the end.
Starting Cash: This is your student's starting cash, in the currency you chose above
Weekly deposits: a new feature that allows your students to receive "new money" in their accounts at the start of each week. You can turn this on or off at any time. TIP: these deposits can recreate what real investors do each month as they put money aside to invest in their portfolios to save up for retirement or some other large purchase.
Interest earned on cash: default setting is 3%, which will mean that students will earn 3% by doing nothing with their initial cash. TIP: to encourage them to invest you can decrease this to 1%, or even use negative integers!
Allow Buying On Margin: This will allow students to trade "On Margin" and borrow money based on their asset value. If students borrow money, they will be charged interest (8% annual interest rate, compounded daily by default, but this can be changed if you ask our support team). 
Allow Short Selling/Day Trading: This will dictate whether or not your students can short sell or day trade respectively. If day trading is disabled, students will not be able to buy and sell the same stock in the same day.
Minimum Stock Price for Buying: Some teachers don't want their students playing with penny stocks, this lets you put a price floor on what the students can buy
Minimum Price For Shorting: Same as above, but applies to short selling
Make All Portfolios Public: the default is set to "no" to stop students from copying each others investment choices. However, you can make them public if this will benefit the needs of your class.
Include Yourself In The Rankings? You can participate too! And students love to compete against their teacher. Turning this off will remove you from the rankings
Display Sharpe Ratio Rankings: This is for advanced tournaments, it will allow you to rank your students by risk-adjusted returns
Display Alpha/Beta Rankings: This is similar to the ranking above, but it can be more accurate in tournaments that trade only US stocks (but less accurate with international stocks)
Display Treynor Rankings?: This performance metric measures the portfolio as a whole, not the performance of individual holdings

Allowed Trades Per Account: choose one of the options between 10 and 1000. This includes both buy and sell orders
Limit Number of Trades per Day: by default it's "no" but you can specify how many trades students can make if you choose "yes"
Require Trade Notes: when set to "yes" students will need to justify each of the orders they make. TIP: these can be exported along with all of their transactions to create reports at the end of the semester or class of how their strategies changed over time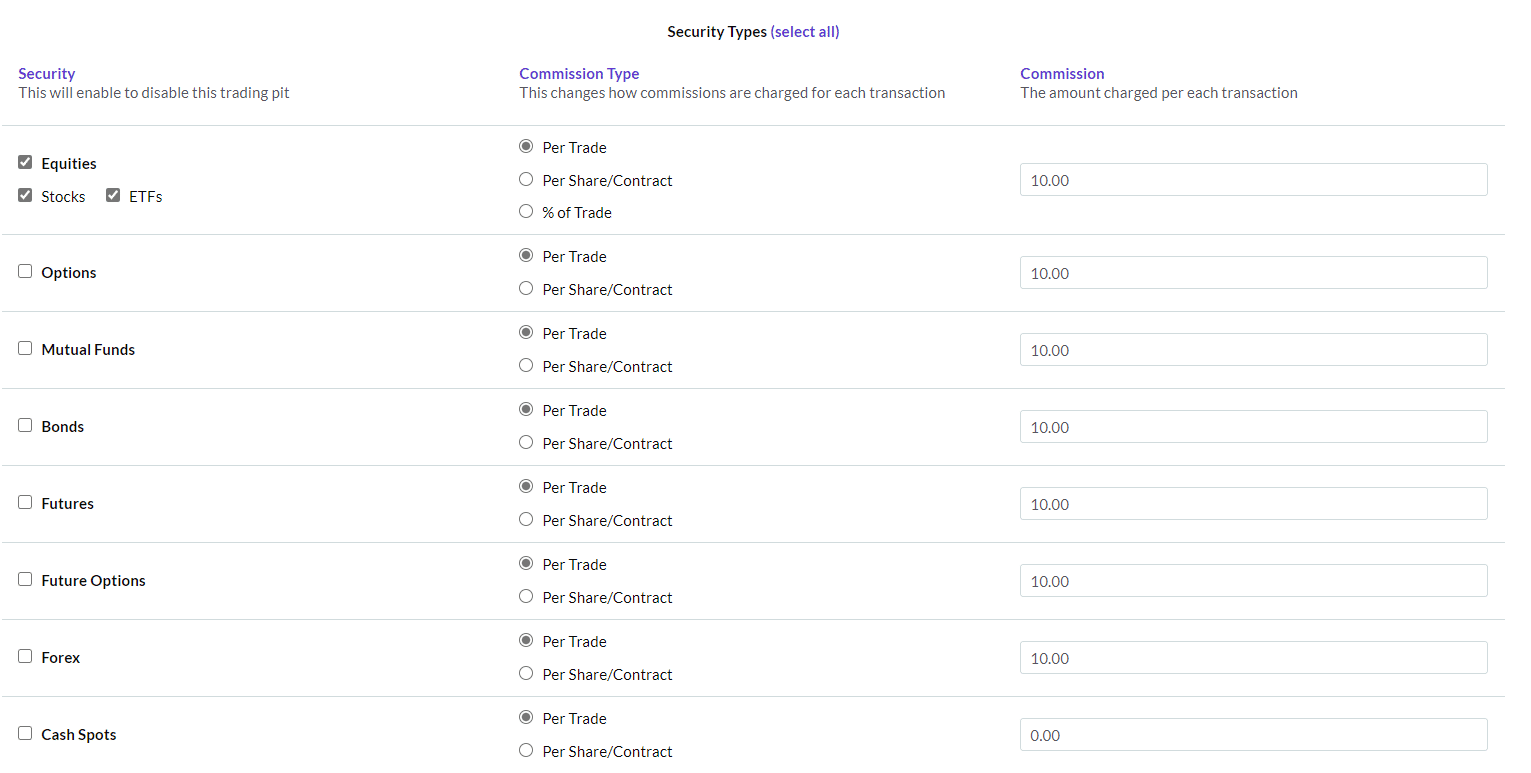 Security types: You can choose between equities, mutual funds, options, futures, future options, bonds, and spot contracts (gold, oil, currencies) too. You can also set different commission charges, and the way commissions are charged (per trade, per share, or as a percentage of the total order).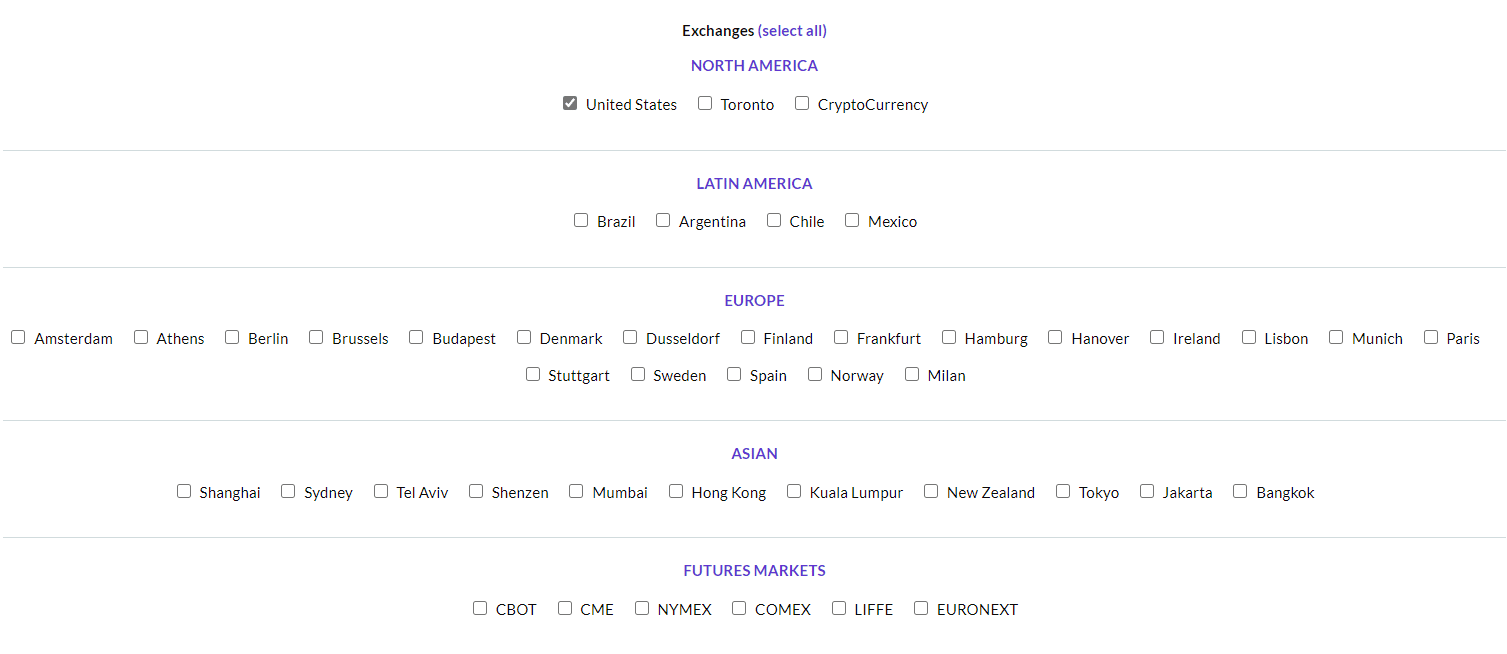 Allowed Exchanges: This will let you set which countries are available for trading in your contest. US exchanges include United States, AMEX, NASDAQGS and NYSE. This only impacts your equities trading: we currently only support international securities for equities, spots (for currency trading), and futures (mutual funds, bonds, and options are US-only).

Customize Exchanges: if you turn this on, you will be able to either select "White Listed Stocks" or "Black Listed Stocks". You can't have both, so read on to see if either of these situations apply to you. If they do not, then click on next.
White Listed Stocks: If you want to run a challenge where students are only able to trade a specific list of stocks, (e.g. only consumer staples, S&P 500 companies or companies headquartered in your state/area). Enter the ticker symbol of each company that you want included and specify the exchange.
Black Listed Stocks: If there are companies that you do not want your students to be able to trade, list their ticker symbols in the available text box separated by commas.

To add advanced trading rules, you can toggle on the "Show Advanced Rules" from the top of the Trading Settings page. This will open up the ability to control the position limit as well as the diversification per security type.
Position Limit: How much a student can invest in one company or ticker symbol based on the current portfolio value. For example, with $100,000 as the initial cash, a 20% position limit will mean students can invest $20,000 in any company/equity/mutual fund etc.
Diversification: How much a student can invest in one asset class. So if you set this to 50% for equities/stocks, your students will have to either keep the balance of their portfolio in cash, or invest in other security types. TIP: If you have margin trading enabled, you'll want more than 100% enabled or else they will not be able to use their loan
Assignments

The final step in setting up your class is creating your first assignment. If you need more time to plan your lessons, you can click "Skip this Step." If you had a previous assignment that you would like to copy click the "Copy an Older Assignment" button. To create your first assignment here are a few things to note.
Assignment Name: You can organize your assignments by subject, by week or any other method that suits your class. Whatever name you choose is what your students will see when they login.
Start/End Dates: You can select an exact time when your assignment is due, (e.g. 5PM) or when students are able to start. TIP: if your assignment starts in the future, students will not be able to see them until that date arrives.
Prerequisite: If you would like to have your students do your assignments in a particular sequence, you can select which lesson they need to complete before the later assignments appear on their Dashboard. After your first one is created, you will see a dropdown menu of your assignments to select as the prerequisite for the one you're setting up.
Reward: It's up to your discretion whether you want your students to be rewarded for completing assignments. TIP: If you want to integrate the Budget Game into the Stock Game, you can create an assignment that distributes an amount of money into their Stock Game accounts after students compete X number of months in the Budget Game. To do this, select under "Budget Game Actions" the task "Budget Game – Complete a full month" and enter the number of months.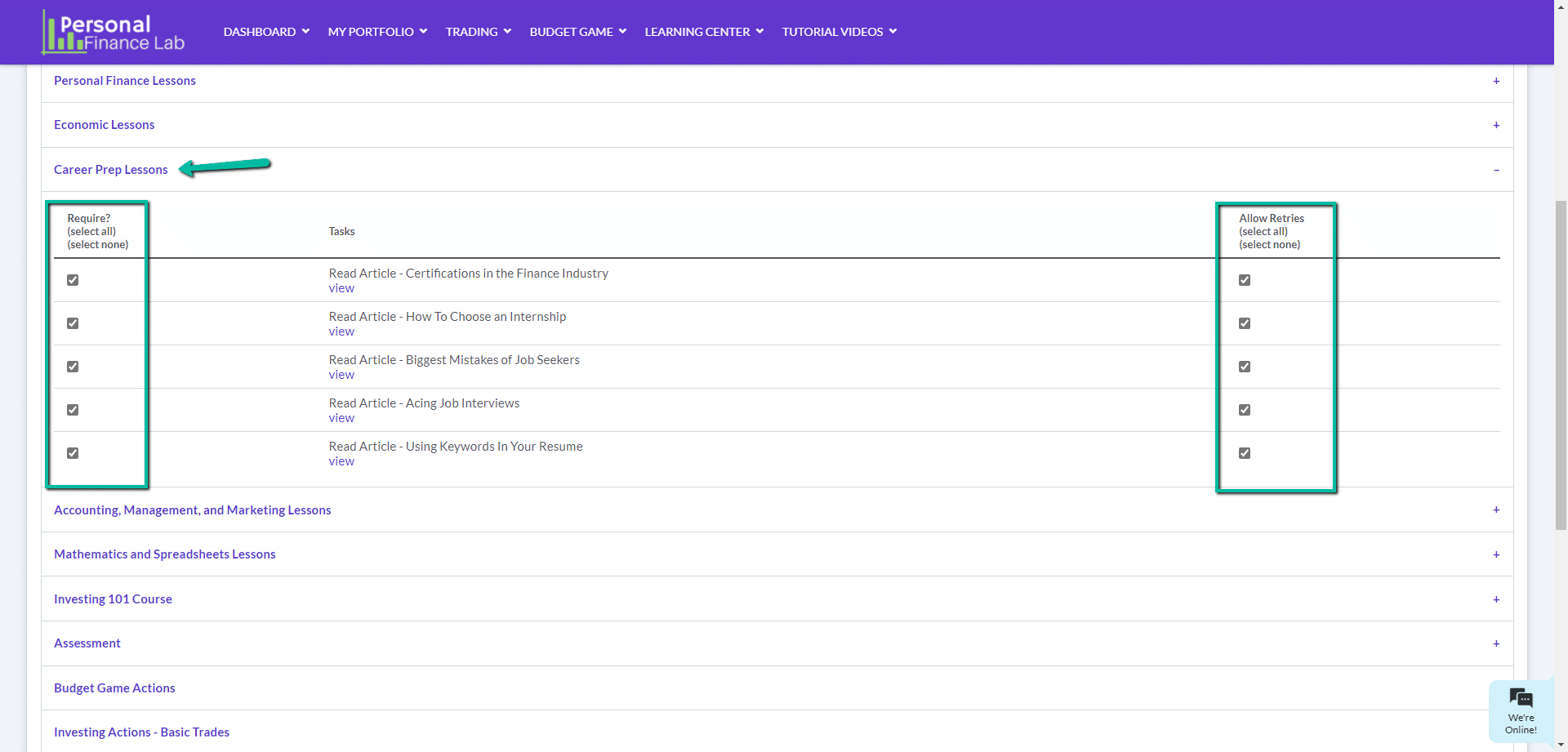 Require? Select All/Select None: You can select all of the assignments from one section to quickly add all the content, and then remove individual articles by unchecking them. Same logic applies to Select None to remove them all.
Allow Retries: Will allow students to take the pop quiz at the end of each applicable assignment more than once to improve their score.
If you don't know what to pick for your assignments, and having a hard time getting started, please check out our Lesson Plans. Scroll through all the different topics like Budgets and Spending Plans, Economics Lesson Plans, Math Lesson Plans etc.
Getting Your Students Registered
Now that your class is set up, you have a few ways to get all your students signed in.
For Students Who Have Not Used The Simulation In A Previous Class

You can invite your students directly: after you created your class class, on the confirmation page (and the confirmation email), you should see a link that looks something like this:

If a student clicks that link, they will be taken to the registration page with the correct contest pre-selected (useful if you're running multiple contests for different sections of the same class).
Returning Students
If a student has already used the platform in a previous class, have them log in to their account first, then click the same link as above. This will add the new class to their existing account – they can switch between classes at any time.