The most challenging aspect of starting to invest is picking the first few stocks to add to a portfolio. Every investor has their own techniques and strategies, but we want to give you the tools you need to place your first trades, and get your portfolio off to a running start.
Establish Goals
Before choosing your first stock, the first step is deciding what your goals are for your portfolio.
Risk and Reward
The biggest choice you will make will be balancing risk and reward – investing all your cash in very risky assets with high growth (or loss) potential, or focus on companies that you believe can be strong in the long run.
Riskier stocks are ones that have a lot of price movement. This can include biotech companies that are trying to develop a new product, companies that have just IPO'd, or many tech stocks that move up and down depending on today's news. Less risky stocks include utility companies and old, established businesses with relatively stable revenues over time.
Diversification
Once you consider how risky you are feeling, next decide how you want to diversify your portfolio, which will help you decide how much cash to invest in each symbol. If you are building a portfolio in the stock game, your teacher might have a rule forcing you to diversify with a "position limit", meaning you can only invest a certain percentage of your cash in any single stock. You can check if your contest has a Position Limit rule on the Account Balances page.
Once you establish the minimum number of securities you need, you can now start handpicking stock symbols by using a trading strategy. You can also create a mix of these strategies to get the best of each strategy.
Trading Strategies for Beginners
"Invest in what you know" strategy
The best way to start when buying stocks is to buy what you know, not trying to follow stock tips or read a bunch of technical analysis that you cannot follow. Think of it this way: if you already know a company, they have done well enough in the past to already become a household name today. This gives you, as the investor, a big advantage; you can see how that company is doing just by looking at their stores and reading normal business news.
Ask yourself the following questions:
Have they started to open new stores around me lately, or are they closing some shops?
Does there seem to always be a lot of people you know using their products, or are they still more obscure?
Does their current news look positive or negative?
If all three of these are positive, then this might be a good place to invest.
Earnings Strategy
An investor can always handpick stocks based on the earnings calendar. To do so, you would have to know your investment time horizons, and flip through the earnings calendar to find gems (i.e. stocks that you can buy and that will soar during its earning season, or stocks that will tank and that can be shorted beforehand).
The Earning Strategy is somewhat of an evolution of the "Invest in what you know" strategy – you will be looking for companies that you believe will have high earnings announcements coming up soon, which can cause their stock price to rise.
Once you have found your stocks, it is very important to analyze them and back-up your assumption of how the market will react to their earnings report.
An example of a well executed trade based on the earnings' expectations would be NVDA. Before the presentation, NVDA was trading around 102 and soared continuously every since to 149.44 on the 7th of June!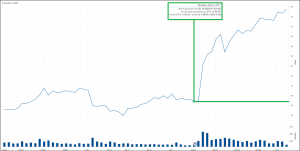 The Passive strategy
If you are not sure which specific stock to select, you can always invest in ETFs and market indices. These products are already diversified for you and will track a specific market for you.
As an example, let's say you want to invest in a gaming company, but don't know which company in specific. You can always invest in an ETF that will track the gaming market for you. In this situation, you can invest in the PureFunds Video Game Tech ETF (GAMR), which tracks this market for you. Based on their website, they have invested in gaming software firms such as Ubisoft, Activision, Konami, etc., which means the stock picking and allocation tasks has been already taken care of by the Fund Managers of this ETF.
You can find a specific ETF in the following link: http://www.etf.com/etf-lists.
Stock screeners strategy
You can also use stock screeners to find good purchases and short sales. A Stock Screener is a program or website that will ask you some questions about what you are looking for in a stock, and return a list of stocks that match your criteria. You can then do extra research on these stocks to determine if they should be added to your portfolio. You can find our stock screener under "Research" on the main menu, or by clicking here.
Getting Trading Ideas
We also have a "Trading Ideas" page that will help you review the overall market's health and help you adjust your stock picks. The "Trading Ideas" page has the latest market news, and a rotating list of the most popular stocks and mutual funds from other students (along with links to get more information on each!)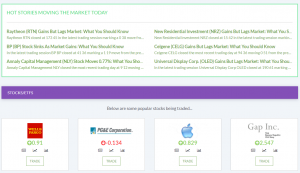 Research Page – Markets
On the right side of the Quotes/Research page, you can also find a section for "Markets". This has some great information to find trading ideas as well.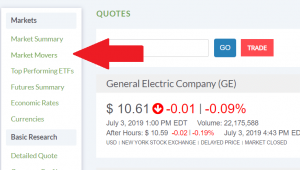 Today's Market Summary
This page is very useful for the start of your research. It presents the day's market summary. It is useful because it tells you how the overall market is doing today. As an example, on May 17th, 2017, you would notice that indices such as SPY dropped 5 points due to the "Trump-Russia" investigation. This can be used as a signal to certain investors to buy more. If an investor purchased SPY during the dip, he/she would have gained more than $5 per share! It is always important to review how the overall market is doing and the market news today. This can help you to capture the perfect timing to buy stocks at their lowest price (or to short sell them at their peak).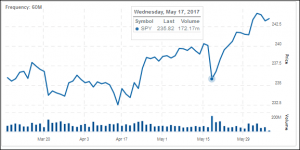 Market Movers
Market movers is a great place to look for some quick stock picks. These are the stocks that have gone up the most or down the most so far this trading day – and you can filter by NYSE, NASDQ, or other exchanges.
If you see a ticker symbol you recognize, look up their quote to see the news on why they are moving – it might be a great opportunity to buy (or short).
Top Performing ETFs
If you do not like picking individual stocks, ETFs might be a better match. Exchange Traded Funds, or ETFs, are "themed" funds – there are ETFs specializing in oil, video game companies, the entire market as a whole, and everything in between. Check the top performing ETFs page to see which types of ETFs are "hot", and which types to avoid.
Analyst Ratings
If you look up the quote for any company, there is also a tab called "Analyst Ratings". This will give you information about what other analysts on Wall Street are saying – along with whether they think it is time to buy or sell.
Pop Quiz!
[qsm quiz=12]