If you find yourself teaching a class remotely for the first time this Spring, never fear! PersonalFinanceLab.com has everything you need for a knock-out distance learning class, all in one place. Our engaging simulations, interactive games, built-in assessments, multi-media curriculum, customizable lesson plans, and teacher presentation and video library has everything you need to turn this semester into a smashing success.
If you're using our resources for the first time, this guide will have everything you need to get off to a running start in less than 5 minutes!
Step 1: Set Up Your Games


PersonalFinanceLab centers our resources on our Stock Market and Budgeting Games. Both games are highly customizable, and will keep students fully engaged and focused on the class. The first step in having a successful online course is to set up these foundational activities – and our support team will be with you every step of the way!
You can use one game or the other, but using both is the best way to get the most engagement out of your class!
The Budget Game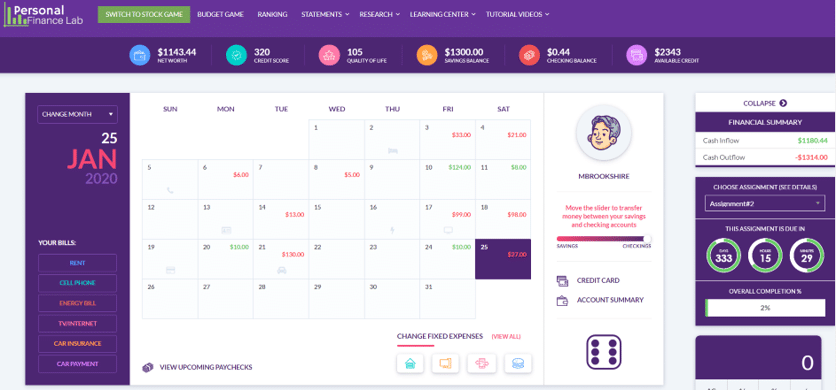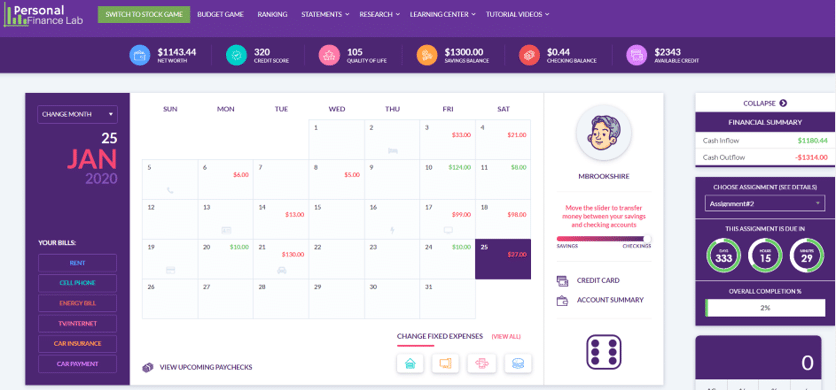 In the Budget Game, students taken on the role of a college student with a part time job – they will need to manage their variable income, unexpected expenses, and tough decisions as they work to improve their Net Worth, Credit Score, and Quality of Life. Students progress through time (each "month" taking about 20 minutes), with each decision having long-lasting impacts on how the game plays out.
Teachers can control the types of life events that occur in-game, along with what bills students receive, how much they earn at their job, and much more. You can even give them "shocks" by increasing their rent or other bills mid-game! Students can also see their performance against other students in the class by Credit Score, Quality of Life, Net Worth, or their overall Game Score.
The Stock Game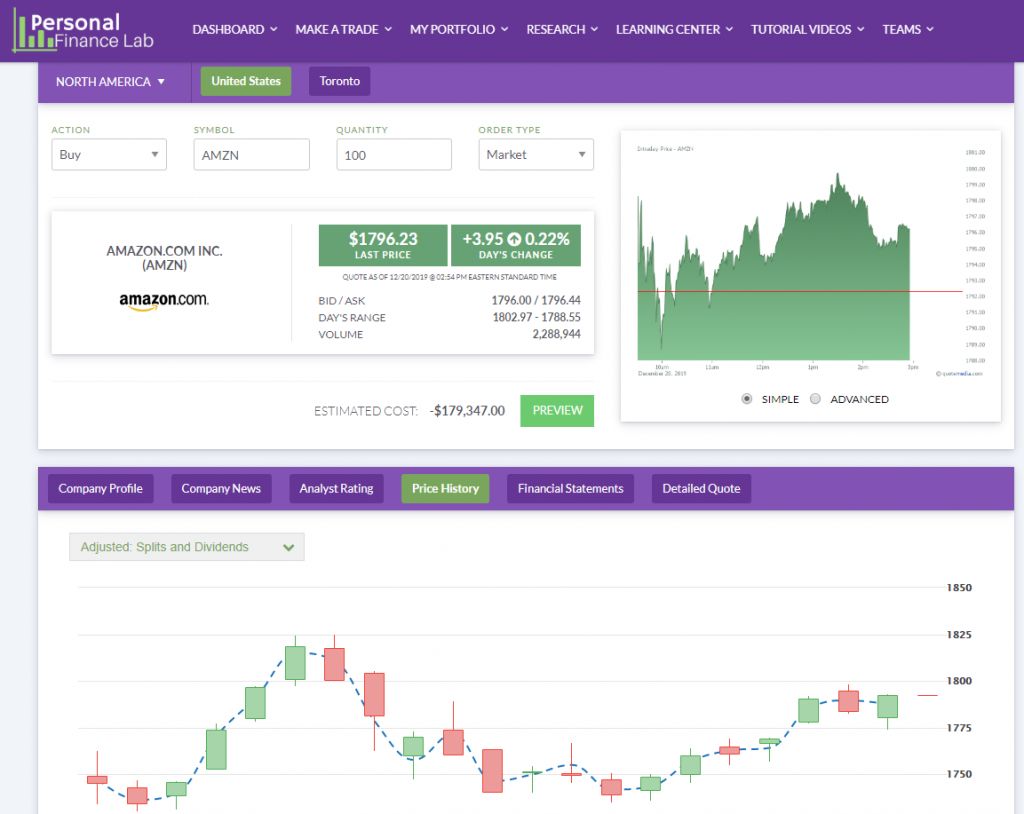 Our real-time stock game brings investing education to a whole new level. Students buy and sell stocks, mutual funds, and bonds at real-time prices, and can track their performance with real-time class rankings. Students take notes with every trade to explain their rationale. Teachers can group their students together into Teams to build a shared portfolio for an excellent group project.
All research is built right in, with quotes, charts, analyst ratings, and much more put right at your student's fingertips (along with plenty of help and tutorials to help them get moving!). There are tons of teacher reports showing all student activities, and lots of teacher help to show how to get investing conversations started in class.
Step 2: Pick Your Lesson Plans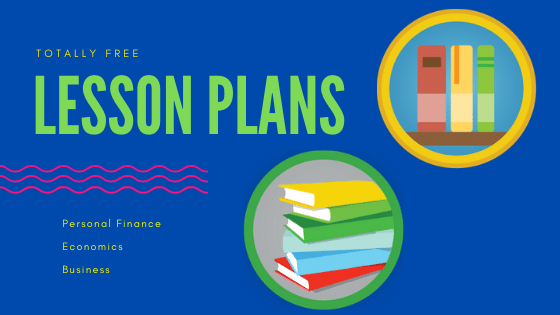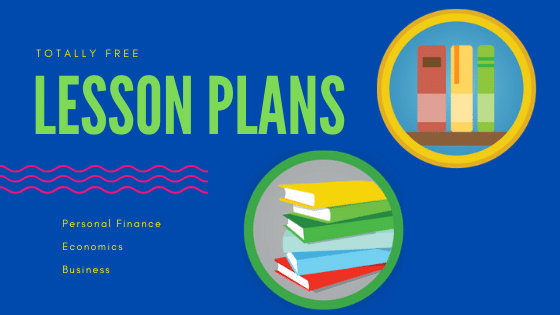 Next up, you'll take a stroll through our comprehensive, customizable lesson plan library. Each lesson plan overs a specific Personal Finance topic, like Credit or Investing.
We then break down 7-15 activities specifically optimized for distance learning: specific prompts for how students should approach their budget game or stock game, lessons from our mixed-media Curriculum Library, pre-built Google Slides and PowerPoint presentations that you can use for direct instruction, class discussion points you can use as prompts on your LMS, and more.
Each activity shows an approximate time for completion, pick and choose the activities – everything you need to give an awesome distance learning experience, all in one place!
Browse Lesson Plans
Step 3: Add Curriculum and Assessments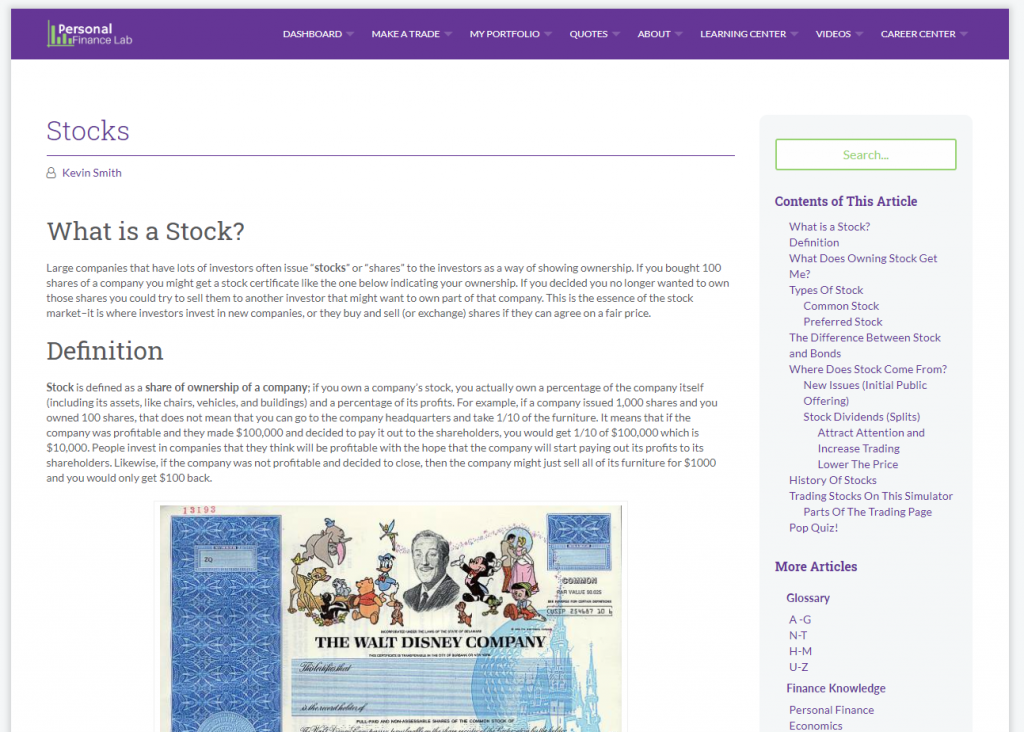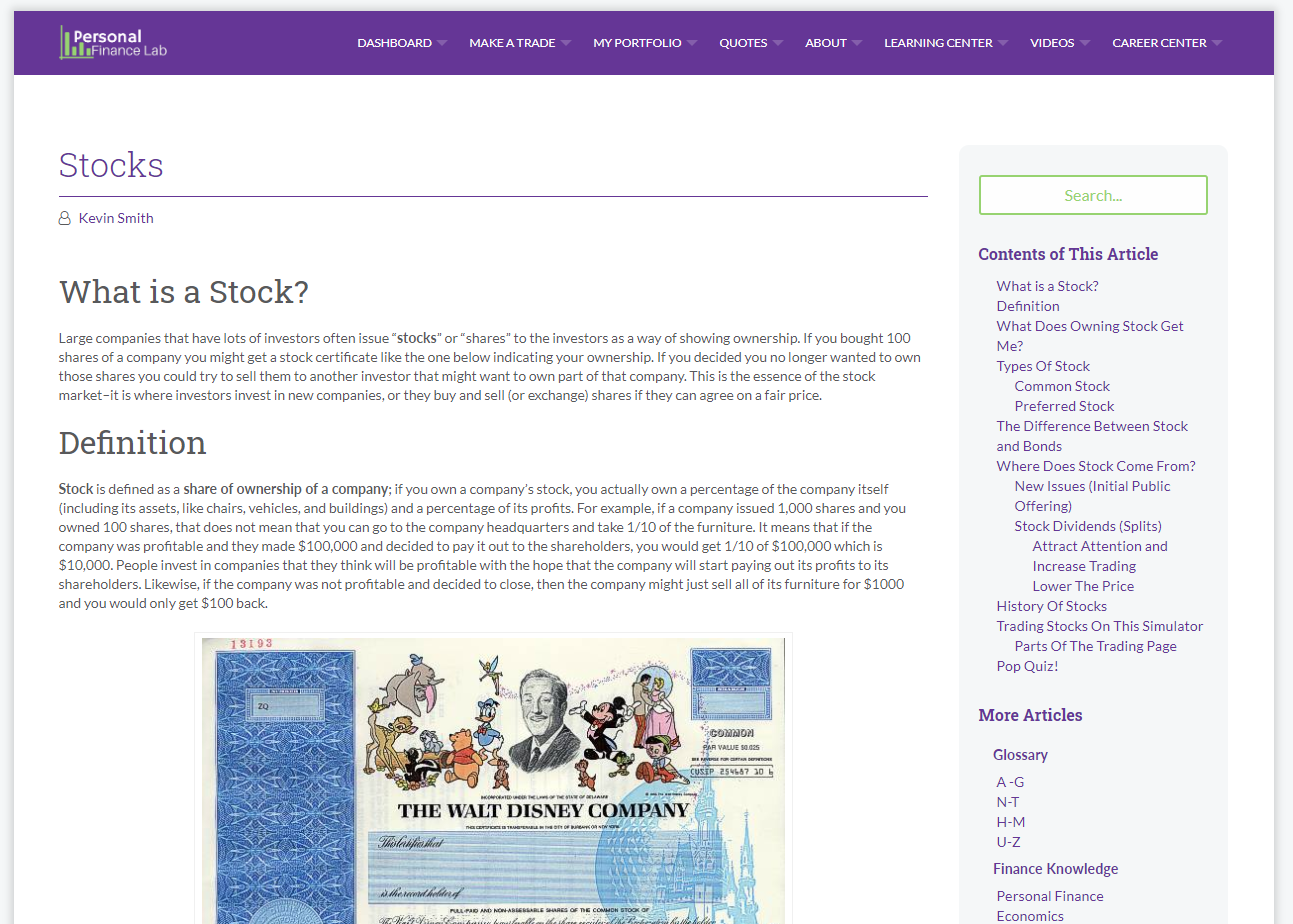 Now that your games are set up and you've chosen the lesson plans you want to use, set up "Assignments" for your class on PersonalFinanceLab.com. Assignments are list of tasks and lessons you assign to your students – our curriculum library has over 300 lessons aligned to state and national standards that you can integrate with your class with a click of a button.
If you started with the Lesson Plans, it will include several recommended lessons from our curriculum library for each topic, but feel free to mix and match to suit your class.
We use mixed media for our lessons, with a combination of articles, videos, infographics, and interactive activities to bring everything together. Every lesson ends with a short, 3-5 question Pop Quiz Assessment – you can choose whether students can re-take the assessment for a higher score, or if you want to save their first attempt to your Grade Book.
Each Assignment will have a start date and a due date. When your students log into PersonalFinanceLab to check their portfolio in the Stock Game or make more progress in the Budget Game, their Assignment will also appear on the page, listing the lessons they are expected to complete and a countdown for when it is due.
Step 4: Students Compete And Learn!
Now you're home free! The live rankings from both the Budget Game and Stock Game help keep students engaged, while your Assignments keep students on-task for the course learning objectives. You can use the discussion prompts to encourage further engagement, and review student performance on each Assessment to identify any problem areas.
To get started, you'll need to order accounts for your class. We cut our normal price of $15 per student down to $5 per student to help out schools forced to go "Remote" for the remainder of the Spring 2020 session – you can either buy accounts directly or request we invoice your school.
Order Accounts
Schedule A Demo
Create A Trial Student Account!
Don't want to schedule a demo? Click Here to create a demo account and preview the platform as a student.