If your school also ordered our Widget Pack for display screens, this tutorial will walk you through the first set-up!
Prefer "Text and Image" guides? Keep reading!
What You Need
To get started, there's a few things you'll need:
A site license to PersonalFinanceLab.com
A separate license for our Widget Bundle

A method to open a web browser on your screen where you want the widgets to display. There are a few options for this:
A Smart TV with a web browser
If you have a Smart TV that has a built-in web browser, this is all you need!
Chromecast, Apple TV, or other method to cast a browser to a screen
If you have some other connection between a computer and the screen, you can run the widgets from your existing computer with no special tools needed.
Intel Stick
An "Intel Stick" is a computer-on-a-chip that can be plugged into any flatscreen TV to turn it into a Windows computer with Wi-Fi connectivity. This can also be used to put your widgets onto screens otherwise not connected to the internet.
You can find the cheapest one our team has tested here.
Part 1: Setting Up Your Screens
Your PersonalFinanceLab account manager will provide you with a link to our Widget Customization Page.
To set up your custom widgets, you will create one or more "Screens". Think of a "Screen" as a single TV or monitor, and you are choosing what you want to show on that display.
Your First Screen
Your first screen will be created automatically when you add your first Widget. A "Widget" is what you want to display on this screen for a certain period of time.
There are currently 3 types of widgets:
Watchlist Widgets, which rotate either through the DOW 30, or some other custom list of stocks
Rankings Widgets, which will display your class rankings from the stock or budget game,
Word of the Day Widgets, which rotate through vocabulary words and images,
…and Custom Widgets, which let you embed any website as part of the rotation.
To add a Widget to your screen, click "Add", and your widget will appear on the right side of the screen:


After you add a widget, you can click "Edit" to view that widget's settings:


Watchlist Widgets
This will embed either the DOW Finance Wall, which rotates through charts on the DOW 30 stocks and a news feed.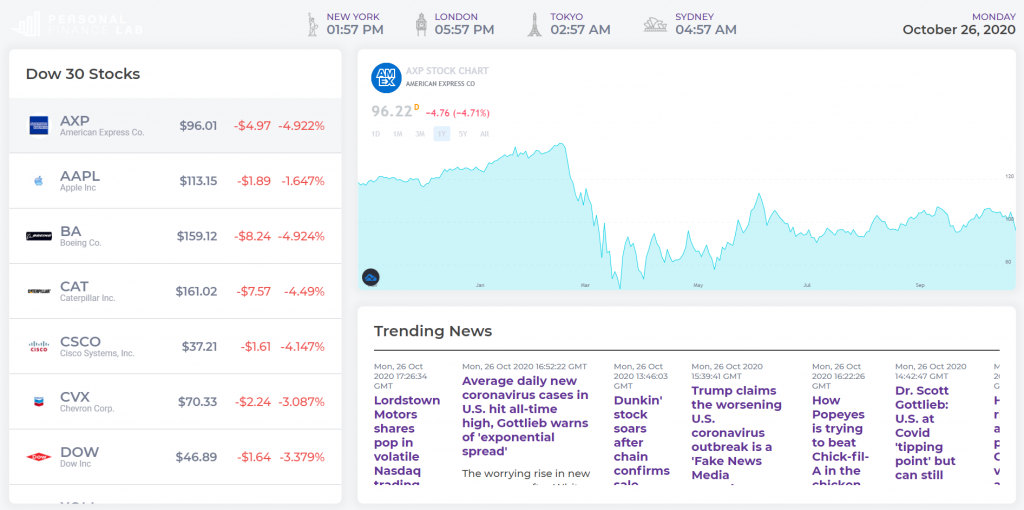 Instead of the pre-built DOW 30, you can instead create your own custom watchlist. Just enter the ticker symbols of the stocks you want to include!
There are three settings for the Watchlist widgets:
Timer, which is how long this widget will appear before changing to the next widget,
Theme, which can be "Light" (a white, light color pallet), or "Dark" (a dark blue color pallet), and
Symbols, for the custom watchlist only. This will be the list of symbols of the stocks you want to broadcast.
Please note that at this time, you can only have one watchlist per screen.
Ranking Widgets
The Ranking Widgets will broadcast your class rankings from the stock game or budget game to you screen. It will include your students' usernames, rankings, and badges.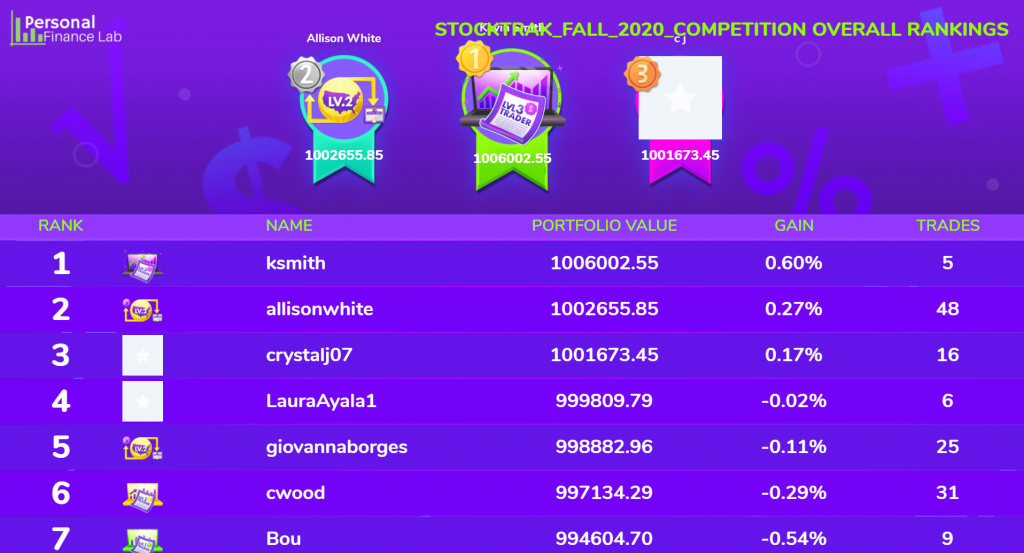 The available widgets are:
Stock Game – Overall Return Rankings
Stock Game – Monthly Return Rankings
Stock Game – Weekly Return Rankings
Budget Game – Overall Score Rankings
Budget Game – Credit Score Rankings
Budget Game – Net Worth Rankings
Budget Game – Quality of Life Rankings
For each ranking widget, you can choose the session to broadcast, and how long this ranking should appear on the screen.
Word of the Day Widgets
You can also add in our "Word of the Day" widgets to broadcast glossary terms. Available sets include:
Investing Word of the Day
Personal Finance Keys to Success
Key Economic Concepts
Accounting Essentials
The only available setting for the Word of the Day widgets is the timer.
Custom Embed
You can also embed any custom URL as its own "widget". This can be used to broadcast your own classroom page, a Google Site, news feeds, or any other embeddable content.
Just put the URL of what you would like to broadcast, and how long you would like it to appear on the screen!
Multiple Screens
If you have more than one display, you can create a custom line-up of widgets for each. The "Screens" drop-down at the top of the page will let you switch between the settings of any screens you have already set up, or create a new screen.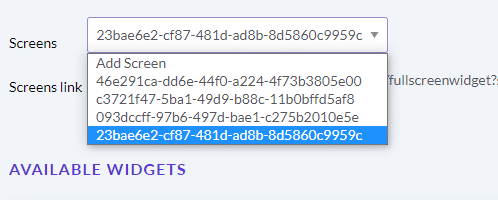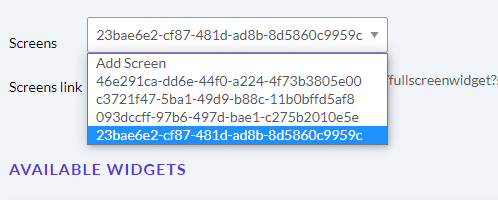 Part 2: Broadcasting
Once you have set up your widgets, you will see your "Screens Link" at the top of the page:

This URL will open up your Screen and automatically rotate through your widgets. You can open this link in a new window or tab to preview your widgets. If you have a Smart TV or display with a browser built in, just open this URL and your widgets will begin to play automatically.
The same goes if you are using Chromecast or if your screens are already connected to a computer (such as a classroom SmartBoard or other display) – simply open this URL in any browser, and your widgets will begin to play automatically.
Intel Stick Instructions
First, open up your Intel Stick box. Take note of a few key pieces:
The USB ports on the side of the stick (you'll connect your keyboard and mouse here later)
The power supply, and port it plugs into on the stick
The HDMI extension cable (you can use this if the HDMI port on your screen doesn't have space to fit the stick normally)
The power button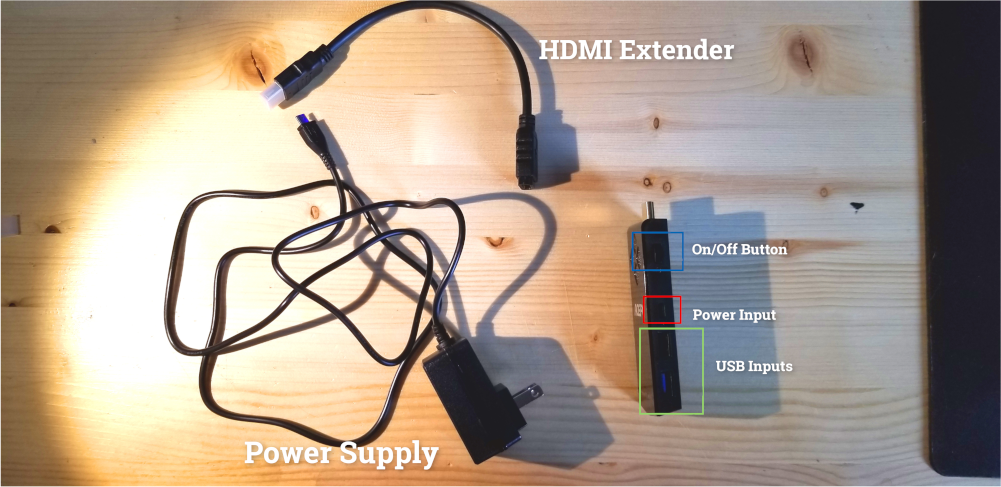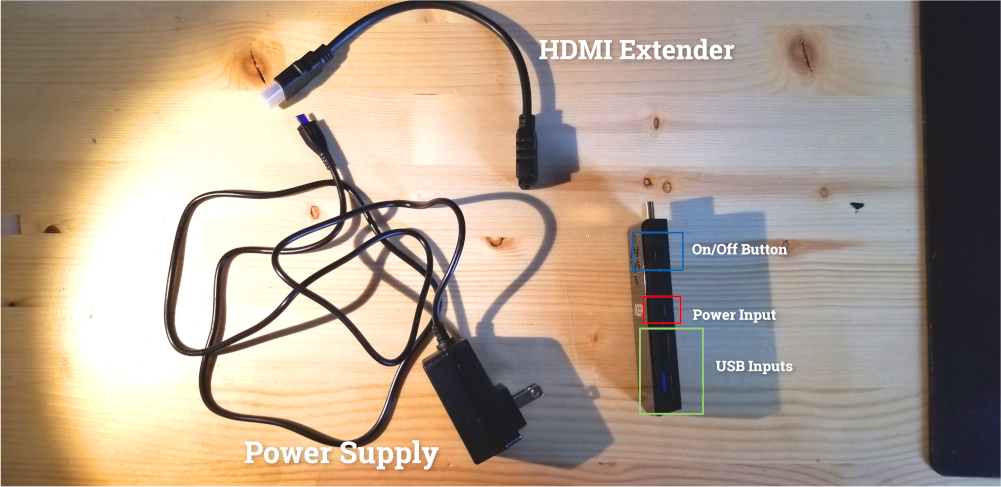 To get started, plug the Stick into the back of the screen. If there isn't enough space for it to fit properly, you can use the HDMI extender as an extension cord to fit into tight spaces.
Next, plug the power supply into the wall and the stick, then the keyboard and mouse into your USB inputs. Finally, press the on/off button (you should hear a small fan start), and turn on your screen.
Data Set-Up
The Intel Stick is a mini-computer running windows. This means you will need to go through the steps of setting up a computer for the first time (selecting language, connecting to wifi, and setting up a login).
Once finished, you'll end on the Desktop. Note – Windows will be installing updates for roughly an hour after you first turn on your stick, so the first day will be a bit slow. It speeds up considerably once all updates are complete.
Once it has finished loading, just open up any browser, enter the URL of your screen, and press F11 to change to "full screen mode". And that's all!
Windows Configuration
If some of the widgets look strangely sized, some sticks need the display settings adjusted after the first set-up. Once you're on the Desktop, right click and select "Display Settings".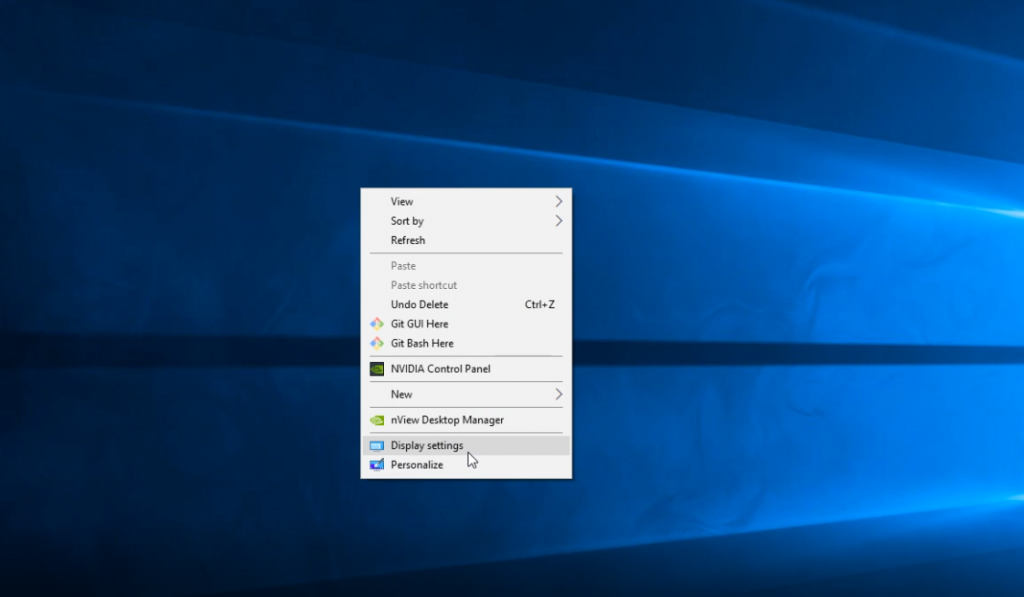 On this screen, ensure the "Resolution" is set to 1920 x 1080, and the "Scaling" is set to "100%"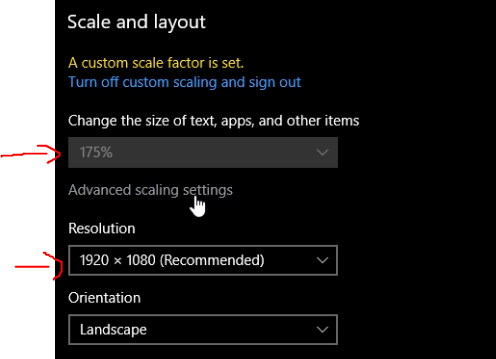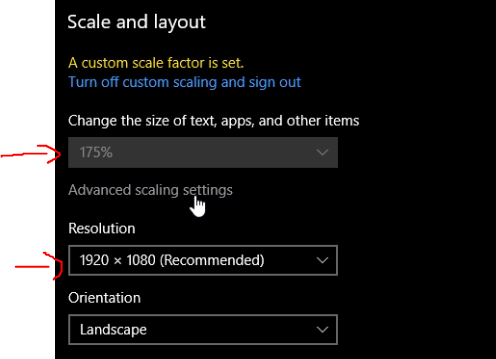 RiseVision Instructions
If your school uses RiseDisplay and the RiseVision software with other widgets, you can also use the PersonalFinanceLab widgets too. Just add your "Screens" link as a "Website Embed" widget, and continue your set-up normally.