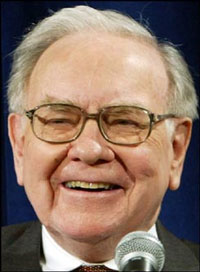 Investing in "what" you know based on "how much" you know can provide an excellent return and a higher level of comfort.

As an example, the legendary investor Warren BuffetChairman and CEO of Berkshire Hathaway, and generally regarded as the greatest buy and hold investor of the last 30 years. has amassed his fortune without using a wide variety of exotic strategies. Buffet is the Chairman and CEO of Berkshire Hathaway (BRK.A) which has a stock price of $99,000 as of December 2009. His company owns large positions in companies like Coca-Cola (KO), American Express (AXP), Wells Fargo (WFC), Proctor and Gamble (PG), Burlington Northern (BNI), and GEICO.

You can check out his holdings, which shows the percentage of each company's outstanding shares that are held by Berkshire Hathaway, Warren Buffet's investment holding company.

All holdings are as of September 30, 2009 as reported in Berkshire Hathaway's 13F, except for Moody's, which is as of December 8, 2009.

He is a classic "buy-and-hold" investor. He purchases securities the "old fashioned way." Buffet studies companies and determines their core values based on the products they make and/or sell, profitability, management quality, and their future growth and sustainability projections.

He never acts on rumors or pure market price indicators. Incredibly, although recognized as one of the preeminent investment gurus on our planet, Buffet seldom sells items in his portfolio. He prefers to use his income stream to keep increasing his portfolio.
Warren Buffet Documentary