Budget Game Teacher Packet

Welcome to PersonalFinanceLab's Budget Game!
This resource packet has everything you need to successfully use the Personal Budgeting Game in your class; whether it's remote or in person.
Logging In
Once you have your account, you can log in directly at www.personalfinancelab.com – just click "Login" at the top left of the page. Teachers and students use the same button to log in. If you want a link to share on your LMS, you can also take students directly to the login page: https://www.personalfinancelab.com/login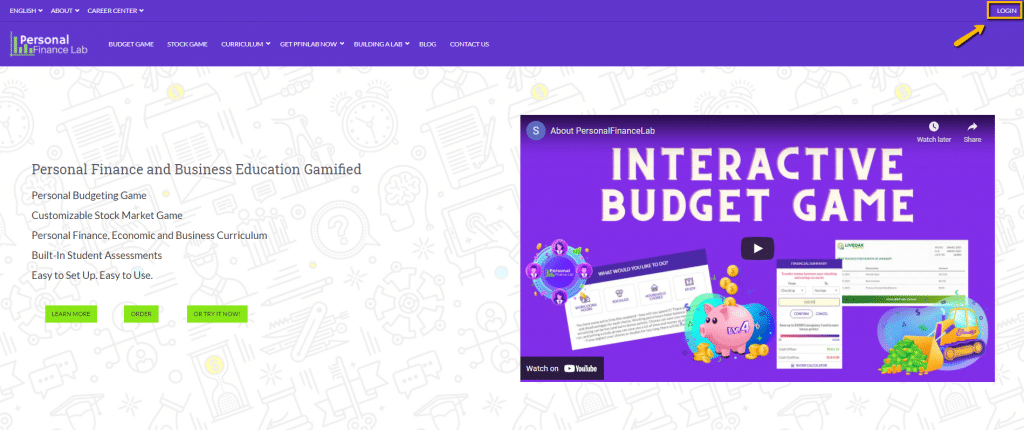 The only difference between your teacher account and a student account is that you have access to an "Instructor Administration" page, which lists your student usernames and passwords, and lets you change their usernames. As the teacher, you can also directly participate in the Budget Game!

When students log in, they are taken directly to the Budget Game. Below are some key areas you should reference if you need help getting started. There are tutorial videos that will explain how all the different game scores are calculated. Also, progress is saved as you go, so this is a great bell ringer activity!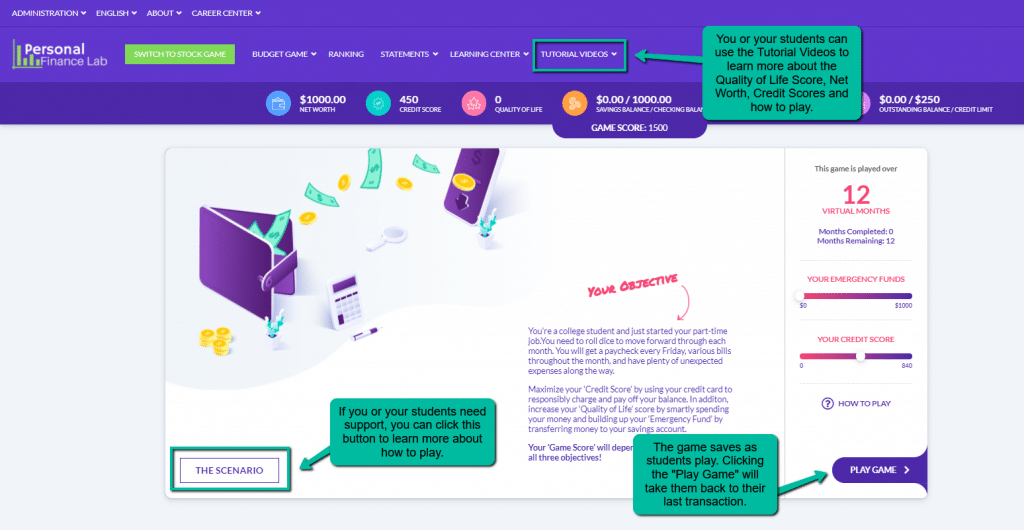 Using The Budget Game In Your Classes
This video is a teacher tutorial showing how to successfully use the Budget Game in your classes. It covers the mechanics of the game (how to play, and how to win), how long to have students play per session, and best practices for tying it back to core Personal Finance concepts.
Lesson Plans
You have access to the library of lesson plans that utilizes our full curriculum of assignments. You can access the lesson plans at any time from your Administration dashboard, by clicking "Admin Resources" in the dropdown menu.
If you're using our Budget Game for the first time, here are the "cornerstone" plans.
Each lesson plan includes slideshows to teach key glossary terms, as well as suggestions for class activities and discussion questions to reinforce all the experiential knowledge acquired in the Budget Game.
Integrated Pop-up Lessons
To be able to follow along with your students, you can use this downloadable PDF that includes all the integrated lessons in the Budget Game.
Financial Literacy Pop-up Lessons
Here are some examples of the lessons that your students will encounter:
Budgeting and Estimating Expected Expenses
Mortgages – Facts and Fiction
Writing Checks
Please note that students encounter 1 to 2 pop-up lessons in each month of gameplay. This is separate from the learning library of assignments you can customize for the needs of your class.
Learning Library
Expand your students' understanding of personal finance, investing, economics, accounting and more with our curriculum of assignments and self-grading assessments. Use our lesson plans to guide you, or mix and match topics as you see fit.
You can view the full learning library from the Adminstration dashboard under Assignments. Here are some pointers to help get you started.
Reward students for completing assignments
Pace student progress by batching assignments and using the prerequisite feature
Set dates for each assignment so students have clear start and end dates

Student Tutorial
Feel free to share this Budget Game Tutorial with your students so they can get off to a running start!
Video Library
To help introduce concepts in a bite-sized format, we also have a big Personal Finance video library. Each video is short and easy to digest – feel free to grab a few and share with your class!