Budget Game for Students (Teacher Packet)
Welcome to PersonalFinanceLab's Budget Game for Students!
This resource packet has everything you need to successfully use the Personal Budget Game for students in your class; regardless of whether you are teaching in person or remotely.
Table of Contents
Logging In
Once you have your account, you can log in directly at personalfinancelab.com – just click "Login" at the top left of the page. Teachers and students use the same button to log in. If you want a link to share on your LMS, you can also take students directly to the login page: https://personalfinancelab.com/login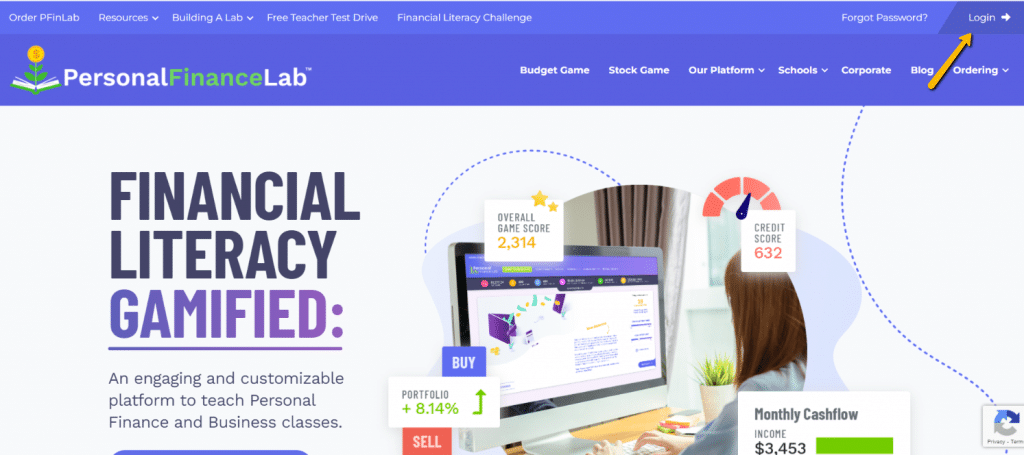 Overview of the Budget Game
This short 4-minute video will show you how to access the Budget Game and how to play. You'll learn where to find useful tutorial videos on Net Worth, Credit Scores and how to achieve a high quality of life. You'll also learn how students can access the included assignments, both from the Budget Game page or the dashboard.
By playing the Budget Game, students experience the long-term consequences of their financial decisions.
Objective of the Budget Game
The objective of the game is to maximize your Credit Score by using your credit card responsibly, increasing your Quality of Life score by spending your money on things that maximize your well-being, and building an Emergency Fund by transferring money to your savings account.
Your Game Score will depend on how well you balance all three objectives!
Students start the game as either a college student with a part-time job, or as a full-time professional. Alternatively, your session may be set-up where students start as college students, then they graduate and take on full-time jobs.
To play the game, students need to roll the dice to move forward. They receive a paycheck every Friday, various fixed and variable expenses, and many unexpected bills and life events along the way. They will also have pop-up lessons that cover basic personal finance topics like, mortgages, opportunity cost or needs vs wants.
Each month takes about 20 minutes to complete. And no two students have the same experience; so class discussions can be very insightful when they compare their monthly budgets.
Student Tutorial
Feel free to share this Budget Game Tutorial with your students so they can get off to a running start! It's also available from the start page when you go to the Budget Game.
Budget Game Tutorial Videos
There are tutorial videos that will explain key concepts like Net Worth, Credit Score, as well as key game mechanics like the Quality of Life score. These are accessible from the Budget Game tab.

Your Instructor Account
The main difference between your teacher account and a student account is that you have access to an "Instructor Administration" page, that allows you to add more students; and view their progress in the Budget Game, Stock Game and the included assignments.
To access this page, you can click the button in the Top Menu called "Instructor Administration", the "Administration" button from the main menu or this quick link.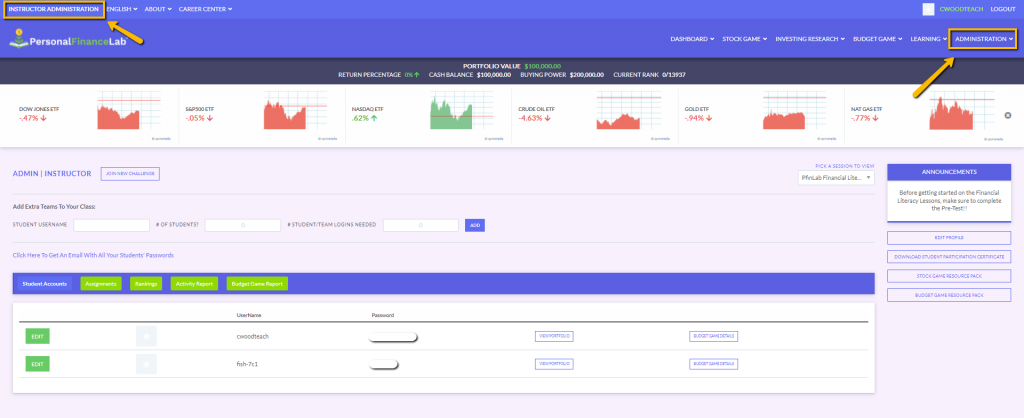 Student Progress and Reports
You can see what your students have been doing on PersonalFinanceLab from your Instructor Admin page. Toggling through the buttons will show you more detailed information on each aspect included in your session. Here is a brief summary of each report available:
Student Accounts: view and update student usernames, view their passwords, click the "View Portfolio" button to see the open positions and transactions in the Stock Game, or click "Budget Game Details" to see the scores and transactions in that game.
Assignments: view the completion percentages and grades for each of your students. Click the "Details" button to see the grades per lesson. Please note that you are not able to assign specific lessons with an Instructor account.
Rankings: will list the rankings of just your class. To see the rankings for all students registered in your session, go to the Rankings page.
Activity Report: please reference the image below. This includes more detailed information about your students' actions in the Stock Game.
Budget Game Report: a more detailed report on your students scores and activity in that game.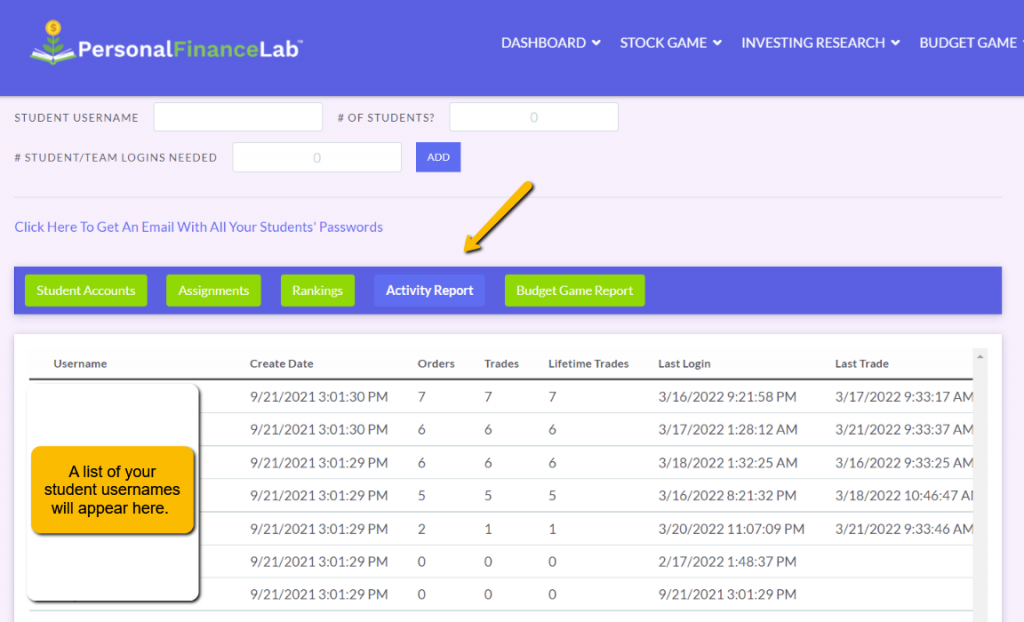 Integrated Pop-up Lessons
To be able to follow along with your students, you can use this downloadable PDF that includes all the integrated lessons in the Budget Game.
Financial Literacy Pop-up Lessons
Here are some examples of the lessons that your students will encounter:
Budgeting and Estimating Expected Expenses
Mortgages – Facts and Fiction
Writing Checks
Please note that students encounter 1 to 2 pop-up lessons in each month of gameplay. This is separate from the learning library of assignments you can customize for the needs of your class.
Lesson Plans
You have access to the library of lesson plans that utilizes our full curriculum of assignments. You can access the lesson plans at any time from your Administration dashboard, by clicking "Admin Resources" in the dropdown menu.
If you're using our Budget Game for the first time, here are the "cornerstone" plans.
Each lesson plan includes slideshows to teach key glossary terms, as well as suggestions for class activities and discussion questions to reinforce all the experiential knowledge acquired in the Budget Game.
Course Outlines
To help you make the most of your class time, we've put together two course outlines that follow Jump$tart Standards. Each has 5 units on Budgeting, Investing, Employment and Income, Credit and Debt and Financial Risks and Insurance. One is for a 9-week course and the other is for an 18-week course. You can access all the teacher and student packets, slideshows and guides from the following links:
We have additional slideshow presentations available from this page Presentations – Personal Finance Lab that you can use to focus on particular subjects like; work vs study, opportunity cost or family planning.
How to Navigate the Dashboard
When students log in, they are taken directly to the student dashboard. Below are some key areas you should reference if you need help getting started.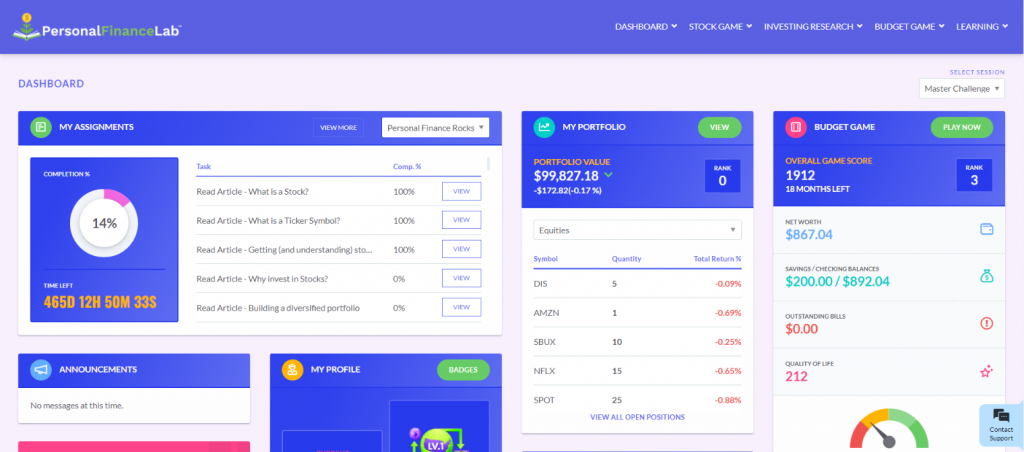 The first widget is "My Assignments" and students can see their grades by scrolling down the list of lessons in each assignment. If there are more than one assignment, they will need to select each from the drop down menu.
Next, they can see their open positions in the Stock Game in the "My Portfolio" widget. If they haven't placed any trades this will list some trading ideas instead. By clicking "Trade" they will go straight to the stock trading page.
A snapshot of their progress in the Budget Game is available too! By clicking the "Play Now" button they go straight to the game. Their progress is saved as they go.
Other useful widgets include the announcement box, latest news and "My Watchlist". Students can change their watchlist to follow any stocks or ETFs, like the S&P 500, that are publicly traded on the US stock exchange.
Video Library
To help introduce concepts in a bite-sized format, we also have a big Personal Finance video library. Each video is short and easy to digest – feel free to grab a few and share with your class!