The Virtual Finance Lab's Financial Life Simulation
The Virtual Finance Lab's
Financial Life Simulation
is Open to All University Students
(To Register, please see the link at the bottom of this page)


Play our fun and engaging Financial Life Simulation at PersonalFinanceLab.com.
When you register (for free), you will have full access to the PersonalFinanceLab's financial life simulation consists of 2 parts: a personal budgeting simulation that covers 12 virtual months AND a series of financial literacy lessons found along the right column. As you play this simulation, you will …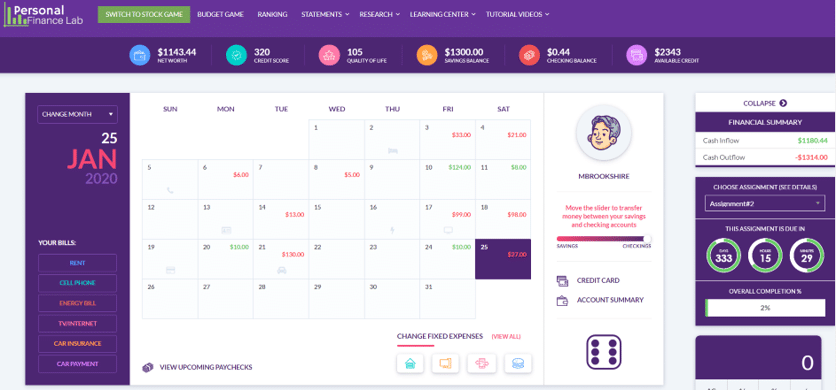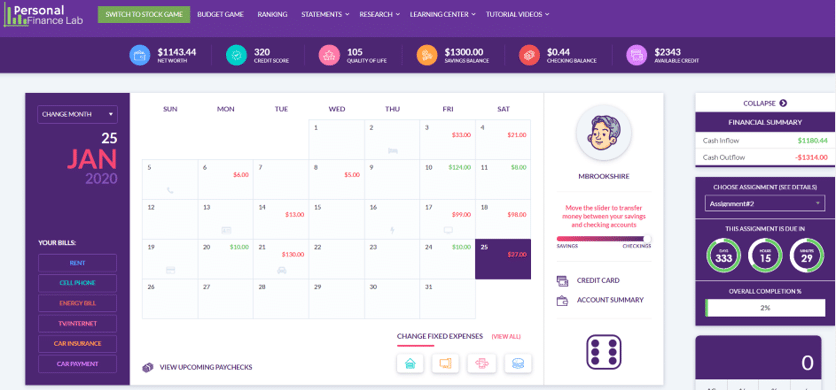 Learn to build a monthly budget
Practice managing your cash flow
Learn to save each month and build your emergency fund
Try to increase your net worth
Manage your credit and improve your credit score
Balance Quality of Life with your overall Game Score
Earn badges as you demonstrate your various competency levels
Complete 12 virtual months and the lessons in the right column to earn your Financial Literacy Certificate!
In this simulation, you have now graduated from college, you have your first full-time job, and you are living in your own apartment. You are responsible for paying all of your own bills, managing your credit, and trying to build your overall net worth. However, you will be forced to make many financial decisions and life choices along the way as you deal with the many expected (and unexpected) events that happen in our daily lives.
The Financial Life simulated journey starts with an individual with a virtual $1,000 in a checking account, and a credit card with a $250 credit limit. During the journey, there are decisions to be made on an apartment and utility choices. You will start your first job on the first Monday of the month, and then every Friday you will receive a paycheck. As a reminder, don't forget to pay the many bills that come in every month!
A monthly budget must be established. The simulation proceeds through the month by the roll of the virtual dice.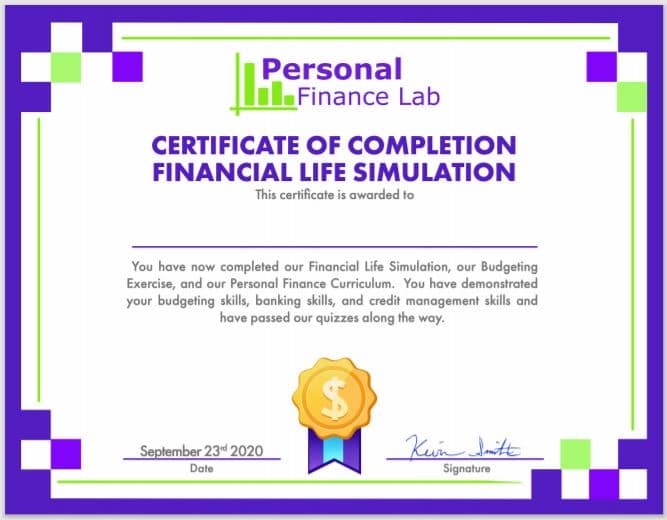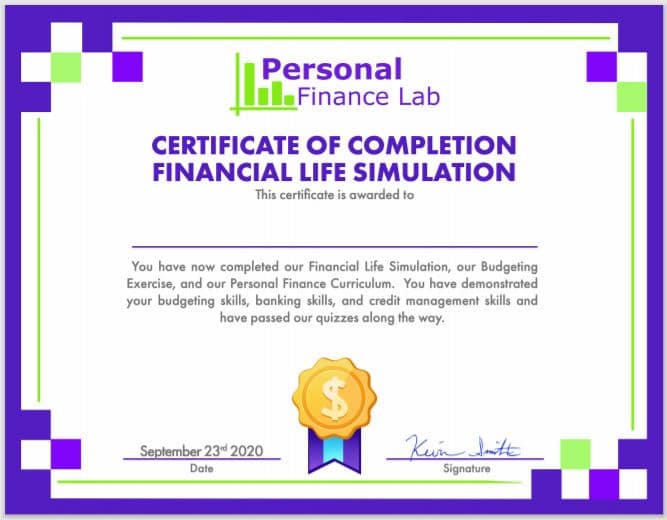 You must complete 12 virtual months and all the lessons in the right column by July 1, 2021 to earn your FINANCIAL LITERACY CERTIFICATE.
To Register:
REMEMBER: To complete this exercise and earn your Certificate, you must complete BOTH :
12 Virtual months of the Budget Simulation AND
The lessons (and their quizzes) found in the right column .
CLICK HERE TO REGISTER and create your account. When you login the first time, you will need to click "Budget Game" in the upper left corner to access the Financial Life Simulation.
If You Have Already Registered:
CLICK HERE to login.