Welcome to Personal Finance Lab!

This resource packet has everything you need to successfully use the Personal Budgeting game and the Virtual Stock Game in your class; whether it's remote or in person.
Logging In
Once you have your account, you can log in directly at personalfinancelab.com – just click "Login" at the top left of the page. Teachers and students use the same button to log in. If you want a link to share on your LMS, you can also take students directly to the login page: https://personalfinancelab.com/login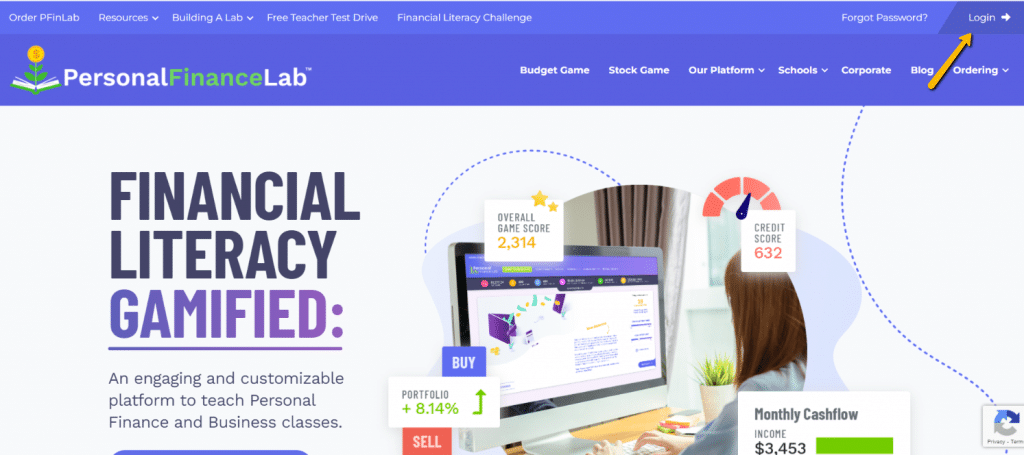 Administration Menu
Your admin account gives you access to an "Administration" button from the main menu. If you hover over it you will have three columns of buttons. The first column are for editing or creating new sessions or classes. The second column is for your assignments, you can view, edit or create new ones. The third column has useful resources and guides, your registration file and the "Manage Teams" button for the Stock Game.
To access your students' usernames and passwords, click "Registration File/Password Resets". As the name suggests, you can reset your students' passwords if they forget or lose them.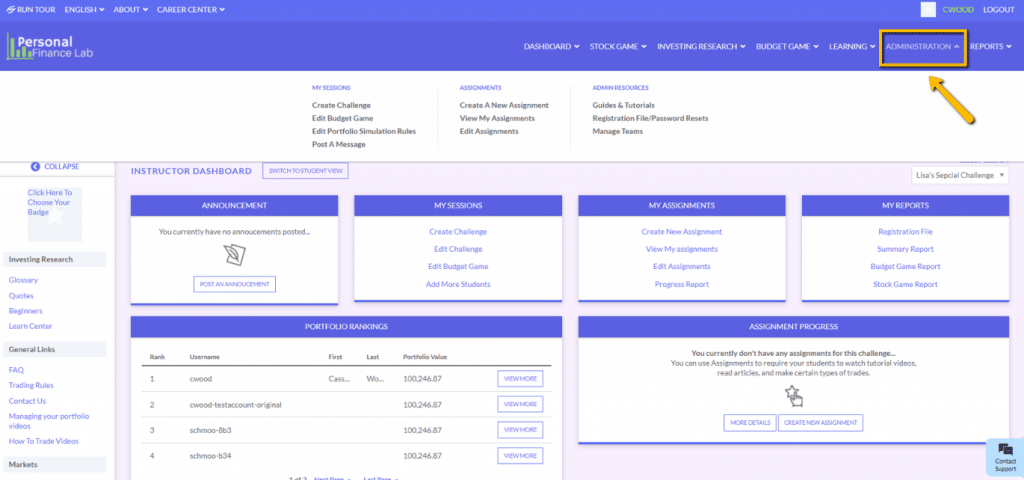 Admin Dashboard
From your admin dashboard you can post an announcement to your class. Your students will be able to see this when they login from most pages on the platform. Beside this widget are other quick access links to edit or create new classes and for your assignments.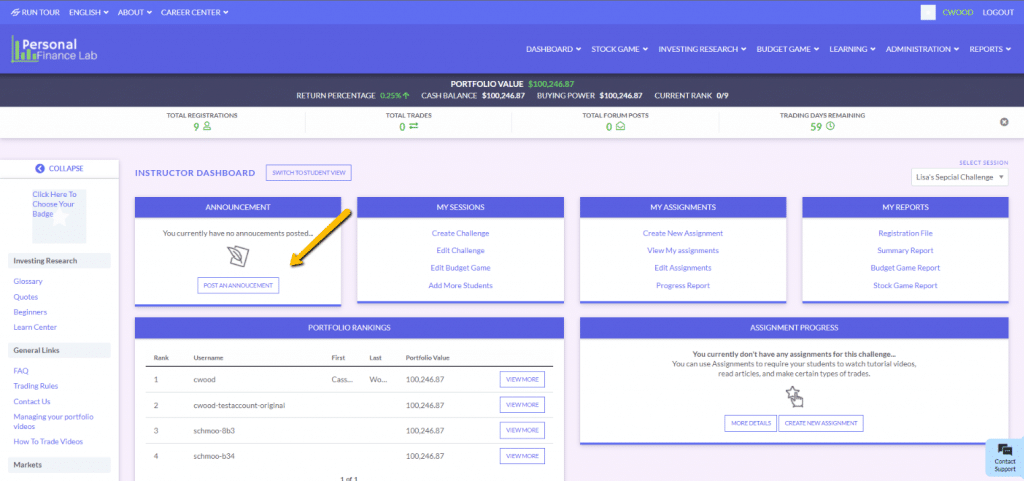 "My Reports" has links to the most popular reports; the registration file, summary report, budget game report and stock game report. The "Summary Report" is where you can find the registration link to your class, as well as an overview of how many students have registered versus who have started using the platform.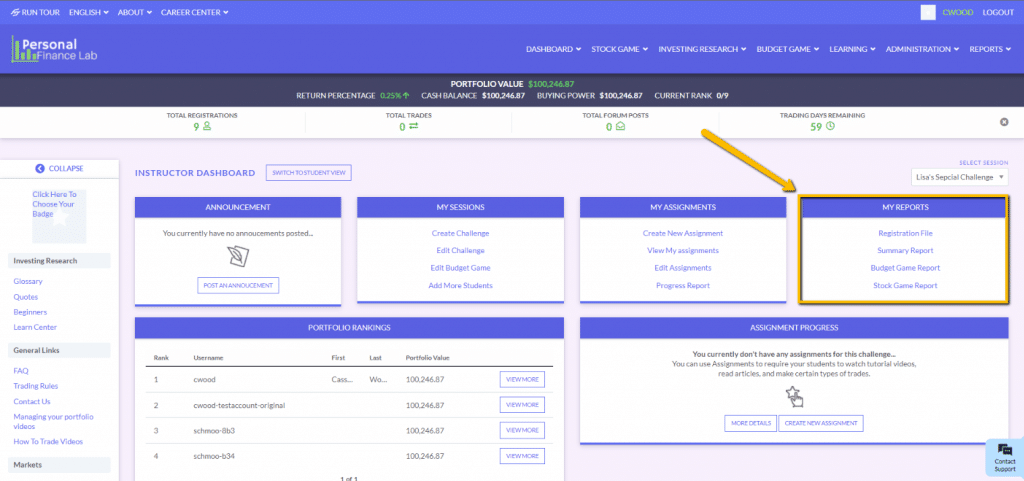 When students log in, they are taken directly to the student dashboard. To see what it looks like click the button "Switch to Student View". Students can access their assignments, the Budget Game or the Stock Game and have other widgets with useful information.
Student Dashboard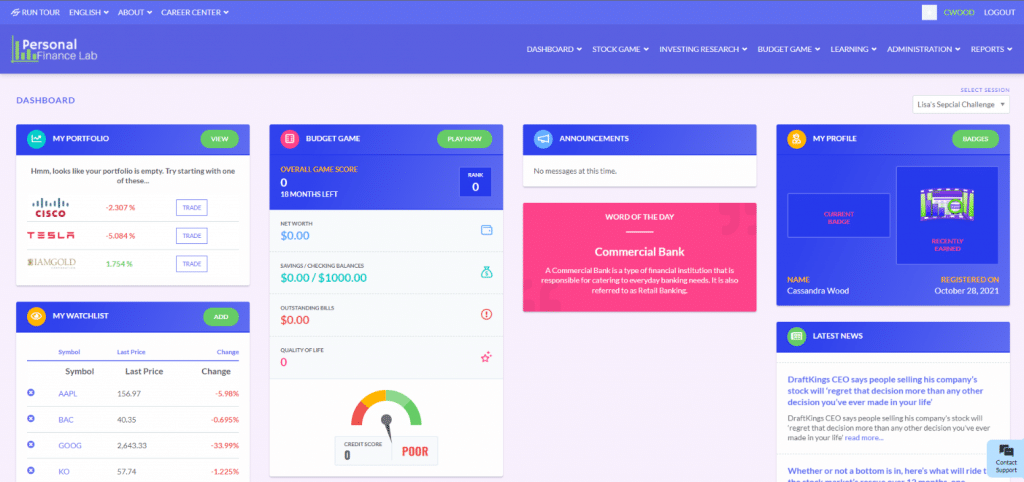 Using The Stock Game In Your Classes
This video is a teacher tutorial showing how to successfully use the Stock Game in your classes. It covers the mechanics of how to use the different types of trades, researching companies and managing portfolios.
Using The Budget Game In Your Classes
This video is a teacher tutorial showing how to successfully use the Budget Game in your classes. It covers the mechanics of the game (how to play, and how to win), how long to have students play per session, and best practices for tying it back to core Personal Finance concepts.
Student Tutorial
Feel free to share this Budget Game Tutorial with your students so they can get off to a running start!
Lesson Plans
You have access to the library of lesson plans that utilizes our full curriculum of assignments. You can access the lesson plans at any time from the Administration button on the main menu. Click "Guides & Tutorials" and then scroll through the list until you see "Lesson Plans".
If you're using our platform for the first time, here are the "cornerstone" plans for both the personal finance and investing topics
Personal Finance Lesson Plans
Investment Lesson Plans
Each lesson plan includes slideshows to teach key glossary terms, as well as suggestions for class activities and discussion questions to reinforce all the experiential knowledge acquired through using the budget game and stock game.
Integrated Pop-up Lessons
To be able to follow along with your students, you can use this downloadable PDF that includes all the integrated lessons in the Budget Game.
Financial Literacy Pop-up Lessons
Here are some examples of the lessons that your students will encounter:
Budgeting and Estimating Expected Expenses
Mortgages – Facts and Fiction
Writing Checks
Please note that students encounter 1 to 2 pop-up lessons in each month of gameplay. This is separate from the learning library of assignments you can customize for the needs of your class.
Learning Library
Expand your students' understanding of personal finance, investing, economics, accounting and more with our curriculum of assignments and self-grading assessments. Use one of course outlines to guide you, or mix and match topics as you see fit. Below are links to our 9-week and 18-week course outlines:
You can view the full learning library from the Admin main menu.
Reward students for completing assignments
Pace student progress by batching assignments and using the prerequisite feature
Set dates for each assignment so students have clear start and end dates

Video Library
To help introduce concepts in a bite-sized format, we also have a big Personal Finance video library. Each video is short and easy to digest – feel free to grab a few and share with your class!